Manchester City and PSG await FFP penalties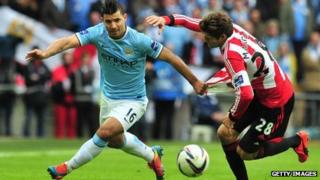 The first ever Financial Fair Play (FFP) sanctions against football clubs who don't break even are set to be imposed, with big guns Manchester City and Paris Saint-Germain in the firing line of Uefa regulators.
The underlying aim of these rules is to ensure that over the long term clubs only spend what they earn, while also ensuring that they pay their taxes and debts on time.
The rules, which also aim to promote youth development, were first mooted in 2009, and five years on the first punishments are set to be handed out.
However, experts say that far from being cut and dried, the rules are full of grey areas which seem to allow wiggle room for wealthy clubs to avoid the harshest sanction - a ban from European competition.
Definitions of terms such as revenues, costs, "acceptable deviations from break even", "related party transactions" and "fair value", make such regulations complex, controversial and difficult to operate in practice.
'Haggling'
It means that clubs such as the Manchester and Paris giants have been able to haggle with Uefa over their punishment, after reportedly being found to breach the FFP break-even rules.
"I think one of the most controversial aspects of FFP is the settlement procedure, where clubs can in effect plea bargain with Uefa over the sanctions they face," says Daniel Geey of legal firm Field Fisher Waterhouse.
"It seems that this is what Manchester City and Paris Saint-Germain are reported to have been doing over the past week."
Mr Geey has been monitoring the evolution of the regulations and has published a joint FFP report with accountancy firm BDO.
He added: "There was no mention of this when the procedure rules were drawn up two years ago, and this bargaining aspect was only added towards the beginning of the year.
"I think that some may believe such 'late in the day' redrafting is relatively contentious, as it potentially allows clubs to escape an outright ban from European competition."
Instead it appears they will face a variety of other measures, which could include a large fine, budgetary controls, squad limitations, and a suspended ban.
Mr Geey also believes that the historic nature of the financial reporting system means that Uefa is not as nimble as it could be in staying abreast of club spending.
"Ideally Uefa would like to sanction a club during the current season they are playing in," he says.
"That would have meant studying spending for this current season, when clubs are playing in the Champions League."
Uefa is making decisions based on accounting data from the 2011-12 and 2012-13 seasons.
"If clubs have the new technology to report on their finances every two months, then it would be a good idea for them to do so," he says. "Then Uefa would have a more of less real-time idea with regard to how clubs were complying.
"Not only would they know sooner if clubs were making huge losses, but it would be possible to impose behavioural modifications sooner, too."
Sponsor deals
Much has been made of the close-to-home sponsorship deals enjoyed by both City and PSG.
In July 2011, it was announced the City of Manchester Stadium was to be renamed the Etihad Stadium after signing a 10-year rights deal with Abu Dhabi-based airline Etihad Airways
Eyebrows were raised as Etihad Airways chairman is Hamed bin Zayed Al Nahyan, the half-brother of Manchester City owner Sheikh Mansour.
Meanwhile, PSG - which is owned by the Qatari royal family - has a deal with the Qatar Tourism Authority until 2016.
Both these would seem to ring alarm bells with regards to the part of FFP which closely scrutinises whether parties to any financial deals are in fact "close family members".
"We hope for clarification on particular parts of what Uefa classifies as a related party transaction when the Uefa announcement is made shortly," says Mr Geey.
After firstly deciding if any commercial deals have indeed been done by City and PSG with family members, Uefa will then have to decide if the money pumped into the clubs was in fact fair commercial value, and not a backdoor subsidy.
"It is not at all clear how Uefa is going to come up with some related sponsorship deals in order to decide whether the PSG and Manchester City deals represent 'fair value'," says finance expert Harry Philp of sports and infrastructure advisors Portland Advisers.
He points to the huge sums involved, with the PSG-Qatar Tourism deal worth £165m a season, and the Manchester City-Etihad deal valued at £350m over 10 years.
"Are these market rates?" he asks. "It will be up to the independent consultants hired by Uefa to decide if there have in fact been comparable deals."
Again, it is hoped that this grey area - as with the "close family member" issue - will also be clarified by regulators next week.
Arbitration route
Mr Philp says Uefa's announcement will be a way of seeing if the regulations have financial bite.
"If the clubs are just presented with a fine, then they will have no problem in paying it, and the regulations will have been seen to be toothless," he says.
"But something such as a salary cap for European competition squads would have teeth, and present the clubs with some difficult decisions about how many players they accumulate in their squads, and how much they pay them."
If the sanctioned clubs don't accept their punishments, or indeed other clubs think the punishments are not strict enough, then the matter goes to an adjudicatory chamber made up of high-ranking judges from outside Uefa but under its auspices.
"They will make a ruling by mid-June," says Mr Philp. "If this ruling is still not accepted then the club can go to the Court of Arbitration for Sport which will issue a final binding judgement in August, in time for the start of the 2014-15 Champions League.
"This is the first time Uefa has implemented a system of financial controls and it will be interesting to see what the final outcome is and what refinements and adjustments they will consider in the future.
"However, having gone down this road financial fair play is here to stay."