Zero hours contracts - a work in progress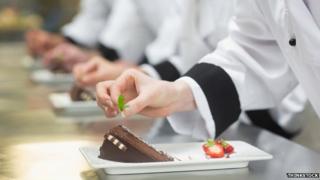 There was excitement among the national statisticians at their news conference in Westminster.
It's not every day you get to unveil a completely new series, especially not in as politically charged an area as zero-hours contracts.
These figures are, like the GDP figures we had earlier in the week, a preliminary estimate.
The Office for National Statistics (ONS) estimates that employers in the UK held 1.4 million contracts that did not guarantee a minimum number of hours, but on which some work was done in the two weeks beginning on 20 January.
It's a little hard to reconcile that with the previous figures that the ONS released.
It asked people if they were predominantly employed on a zero-hours basis as part of the Labour Force Survey and came up with a figure of 583,000 for October to December 2013.
But there were extensive caveats behind that figure, because there was considerable doubt about whether respondents knew what a zero-hours contract was.
The figure had jumped from 250,000 six months before, which the ONS suggested was because more people knew about the contracts as a result of "increased media coverage in the latter half of 2013".
The difference between the 583,000 figure and the 1.4 million may be because people have more than one zero-hours contract each, or because they have a zero-hours contract in addition to a contract that does specify minimum hours.
Even so, it's fair to say that the new figure looks pretty big. In addition to the 1.4 million contracts on which some work was done at the end of January, there are another 1.3 million contracts on which no work was done.
That may be because no work was offered during the period, but it may also be because the worker was sick or on holiday at the time, or indeed because they had gone and got another job and not bothered to cancel the zero-hours contract.
And here is the problem - there is no limit to the number of such contracts that a business can give out at minimal cost or that an employee can hold, as long as there is no exclusivity in the contract.
The ONS has said it's going to do more research and find out how many of the 1.3 million contracts are active and should be added to the 1.4 million.
On top of that, it turns out that some of the biggest users of such contracts are seasonal businesses such as tourism, so the figure, next time it's collected in the summer, may be considerably higher.
So it's a first go, and we now know that there are somewhere between 583,000 and 2.7 million people in the UK with contracts that do not guarantee them a minimum number of working hours.
If that looks like a big range, I dare say it will improve with more research. There are due to be extra questions in the Labour Force Survey from January next year, to try to find out how many people have several contracts.
But there are definitely things we now know about such contracts and the people who hold them that we didn't know before.
Compared with the average member of the workforce, people on zero hours contracts are:
More likely to be under 25 or over 65 years old
More likely to be in full-time education (18% of them are)
Work fewer hours per week (an average of 25 hours, compared with 37 for those on other contracts)
More likely to be employed by big companies
More likely to be female (55% of them are)
More likely to want to work more hours (35% do compared with 12% of those who are not on zero hours).
So it's a good first effort, we've learned a lot, and we can look forward to more detail when the methodology has been refined.