China's ICBC's first quarter profit beats forecast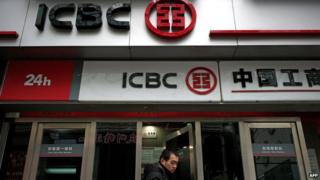 China's ICBC says first quarter profits are up 6.7% from one year ago based on Chinese accounting standards.
For the three months to March ICBC, China's biggest bank by market value, reported a net profit of 73.3bn yuan ($11.7bn; £7bn).
Analysts that watch the industry were expecting net profit to come in at 71.5bn yuan for China's biggest bank.
ICBC also reported that its non-performing loan ratio edged higher in March.
Loan portfolios at China's financial institutions have been a source of growing concern for the Chinese government, as it tries to rein in the high debt levels.
The China Banking Regulatory Commission (CBRC) has pointed out that as of December last year, non-performing loans made by Chinese lenders reached nearly 600 bn yuan.
Debt woes
The rising level of bad debts highlights the worsening of credit conditions in China.
Authorities are concerned that borrowers are seeking loans from non-financial institutions - a segment in the economy that is known as shadow banking.
The shadow banking system comprises trusts, leasing and insurance companies - or any other non-bank financial institution - which perform banking functions without a banking licence.
The People's Bank of China, the country's central bank, reported earlier this year that 89% of households and 57% of firms have borrowed money from institutions other than banks.