Highest UK economic growth figures since 2010 expected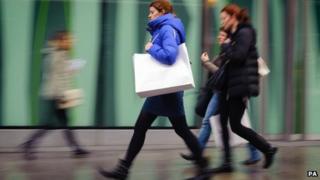 The UK economy is expected to have grown strongly in the first three months of 2014, rising by the highest level in almost four years.
Analysts say preliminary estimates from the Office for National Statistics, out on Tuesday, will show gross domestic product (GDP) grew by 0.9%.
That would mark the fifth consecutive period of GDP growth; the longest since before the financial crisis.
In the last quarter of 2013, GDP, which measures economic activity, grew 0.7%.
The encouraging GDP figures come after the Bank of England's revised its estimate of the UK's economic growth to 1% for the first quarter of 2014.
Earlier this month, the International Monetary Fund (IMF) said it expects the UK to be the best-performing of the world's largest economies in 2014, with growth of 2.9% for the year.
Rate rise?
This, along with a flurry of healthy economic statistics, is likely to fuel speculation that the Bank of England will raise its interest rate, which has been kept at a record low of 0.5%.
In addition to the growth in GDP, UK unemployment has now dropped below 7%, the threshold at which the Bank of England said last August it would consider raising interest rates.
Recent data from the ONS also revealed that weekly earnings had finally caught up with inflation, after six years of falling behind.
Last week, retail sales figures showed a rise of 4.2% compared with the year before.
The pound has also reached record peaks ahead of the GDP report, hitting a high of $1.6847 against the dollar on Monday.
However, the National Institute of Economic and Social Research (NIESR) said it does not expect a change to monetary policy until the middle of 2015, because the recovery is "still in its infancy".
It also warned that a "sizeable negative output gap remains" in the UK economy.