Help to Work: New unemployment rules in force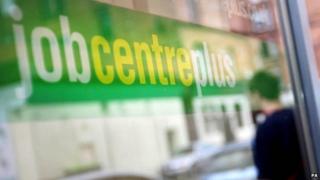 Long-term unemployed people will have their benefits cut unless they visit a Job Centre every day, work for free or undertake training, under new rules which have now come into effect.
The rules will apply to anyone who has not found a job after two years on the existing Work Programme scheme.
The government says the new scheme - called Help to Work - is "absolutely not" intended to punish jobless people.
Those who fail to take part could lose jobless benefits for fixed periods.
Jobseeker's allowance (JSA) can be suspended for four weeks for their first failure, then 13 weeks for a second failure.
It is thought the new rules will affect 200,000 people.
'Huge waste'
Work and Pensions Secretary Iain Duncan Smith said: "Everyone with the ability to work should be given the support and opportunity to do so.
"The previous system wrote too many people off, which was a huge waste of potential for those individuals as well as for their families and the country as a whole."
Employment Minister Esther McVey said Help to Work was "absolutely not" about punishing people.
She said she and others involved cared "deeply" about helping people into work and "fulfilling their potential".
The people targeted by the scheme were the "hardest to help" and the government wanted to give them "extra support", she added.
Labour says that the government has misdiagnosed the problem.
Stephen Timms, shadow employment minister, said the introduction of Help to Work was a "reflection that previous policies haven't worked".
"In fact more people go from the Work Programme, having completed two years on it, straight back to the Job Centre than get a sustained job outcome," he said.
Community service 'sentence'
A pilot of Help to Work, involving more than 15,000 people, showed limited success.
Jonathan Portes, of the National Institute of Economic and Social Research, said the trial showed "positive effects" - but those effects were "very small".
Joanna Long, of campaign group Boycott Workfare, which opposes "forced unpaid work" for people on benefits, said Help to Work would fail to help people get jobs.
"It's failed to garner support even from the charities that are already involved in its other workfare schemes because even they won't touch something so punitive as a six-month community service sentence."
'Waste of money'
BBC social affairs correspondent Michael Buchanan said the government had signed up more than 70 organisations to provide work experience under the scheme.
However, our correspondent added that the Salvation Army is not taking part, because it believes if someone has not found a job after two years of intensive support, their lack of work experience is not their only barrier to employment.
Oxfam and the YMCA are also refusing to take part, he said.
Robert Jones, 56, who has been unemployed for more than three years and has been on the Work Programme for almost two years, said the government "don't care" if people are unemployed.
"If you listen to the rhetoric of MPs it's not about getting people into work, they always talk about getting people off benefit, and I think that's their emphasis," he said.
Lewis Evans, from Trowbridge in Wiltshire, is 25. He has been out of work for three years, and will now be taking part in the Help to Work programme.
He says the problem is a simple lack of jobs in his area.
"Every single job in Wiltshire has been flooded with applicants," he told the BBC.
"The waste of money that must have gone into this," he added.
Benefits changes
Also on Monday, those wanting to claim JSA will have to prove they are ready for work before they can apply.
The government has said the changes will help to put an end to the "one-way street in benefits".
But the TUC says the rules could discourage more people from claiming it.
"Making the JSA rules tougher and tougher will put people off claiming the benefits they need without doing much to help them get jobs," said Frances O'Grady, the TUC's general secretary.
But the Department for Work and Pensions (DWP) said there was no evidence that people would be put off claiming.