Britain leaving EU 'poses significant business risks'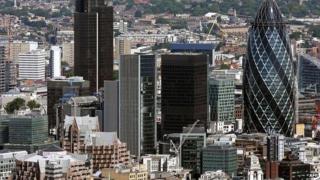 Quitting the EU would pose "very significant risks" to Britain, the body which represents major UK-based banks and insurance firms has said.
The City UK commissioned a report to examine Britain's relationship with the EU from a financial and professional services perspective.
The study was rejected by the Eurosceptic Business for Britain group.
The Treasury said membership of a reformed European Union was in Britain's national interest.
The City UK commissioned the report on the financial implications for its members - who account for 13% of Britain's economic output - of leaving the EU.
It found that doing so risked subjecting the UK to single market rules over which it had no control.
The research suggested it would undermine economic well-being and the ability of business to grow and compete in world markets.
It also found that the so-called Brexit would lead to higher prices, higher unemployment and lower growth.
'Led from front'
The City UK chief executive Chris Cummings said: "The UK has benefited economically and socially from its membership of the EU.
"But where we have done best is when we have led from the front, whether that's been on the development of the single market or in negotiating opt-outs in areas which would have disadvantaged the national interest.
"The government has done a welcome job in setting out the need to reform the EU but now is the time to press the case and build alliances with other member states to deliver a reformed EU.
"In my experience other EU members value the UK's commitment to economically liberal ideals, to free trade and our international viewpoint.
"They want the UK inside Europe. And that's where we need to be because that's where our economic interests are."
But Business for Britain said leaving the EU would not be the death knell of the City.
It said there had been similar scaremongering in the late 90s when Britain did not join the euro.
The City UK, formed in 2010, is an independent body representing financial and related professional services based in Britain.