British Gas suspends applications to free boiler scheme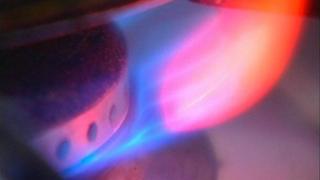 A major part of the government's flagship energy saving programme has been put on hold by British Gas.
The company has told Radio 4's You and Yours that it has temporarily stopped taking applications for free boilers.
British Gas says it has met one of the government's "Energy Company Obligations" (ECO) a year early.
At present firms must help customers on low incomes and in "hard to heat" homes with measures such as insulation, new boilers and double glazing.
It has been funded by a levy on bills, and has been used to justify price rises.
All of the major energy companies have to reach three separate ECO targets by March 2015.
Of the three targets, the energy companies have done most work on the cheapest and easiest elements- called HHCRO - which includes fitting new boilers.
British Gas says anyone who has applied but has not yet had a survey will be told their application will no longer progress.
None of the other nine companies required to supply energy saving measures to customers have said they will be suspending schemes.
The Department for Energy and Climate Change has been consulting on the future of the Energy Company Obligation, which has been extended to 2017.
British Gas has installed more than 75,000 new boilers under the scheme - which more than exceeds its target.
The company is now asking the government whether it can "carry forward" installations in excess of its March 2015 targets, which would then count towards its March 2017 targets.
"We hope to reopen the scheme once this clarity has been obtained," the firm said.
A spokesperson for the Department of Energy and Climate Change said it was up to British Gas how it implemented the scheme, with an announcement on the 2017 targets yet to come.
A consultation on the future of the Energy Company Obligation closed on 16 April.
Derek Lickorish, chair of the government's Fuel Poverty Advisory Group, said: "We have suggested to the government that now the evidence shows that costs for delivering the ECO are coming in below expectation, the target should be increased accordingly, preventing any need for carry-over and it would help more fuel-poor households."