Amazon revenue up but offset by increasing expenses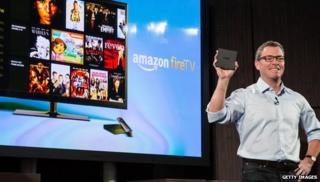 Internet retailer Amazon reported a 32% jump in profits to $108m (£64m) in the first quarter of 2014.
The firm said strong sales - which increased by 23% to $19.74bn - helped contribute to the profit growth.
"2014 is off to a kinetic start," said Amazon founder and chief executive Jeff Bezos in a statement.
However, investors were disappointed by increasing expenses - which rose 23% from a year earlier - and ate into profits.
Shares in Amazon were mostly flat in after-hours trading.
Overall, shares in the firm have declined by more than 15% this year.
New products
Mr Bezos touted Amazon's expansion into streaming video, including the launch of its fire TV box and its new deal with HBO.
He said Amazon was having difficulty keeping its Fire TV - which plugs into traditional TV sets and allows users to stream content from sites like Hulu and Netflix - in stock.
The device is aimed at competing with similar products offered by Apple and start-up Roku.
In addition to its TV efforts, Amazon has been increasing spending to invest in new offerings, including building more distribution warehouses, expanding its cloud-computing effort Amazon Web Services, and adding new services like a food-delivery programme.
To help partly cover those expenses, Amazon announced in March that it would increase the cost of its Prime unlimited shipping membership in the US to $99 a year from $79 - a 25% increase.