Microsoft earnings buoyed by new CEO's cloud vision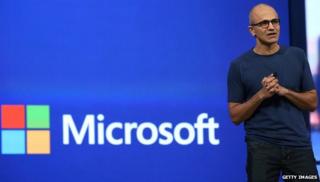 Microsoft reported net profit of $5.66bn (£3.37bn) in the first quarter, a decline from the same period last year but better than market estimates.
The software maker's efforts to move further into cloud computing - a move championed by new chief executive Satya Nadella - seem to be paying off.
Azure, a cloud computing product, saw revenue grow 150%, Microsoft.
The company also said it added 1 million users to its subscription-based Office programme for personal users.
Microsoft sold in 2 million Xbox consoles, including 1.2 million Xbox Ones during the period.
"We are making good progress in our consumer services like Bing and Office 365 Home, and our commercial customers continue to embrace our cloud solutions," said chief executive Satya Nadella, who replaced Steve Ballmer in February.
However, Microsoft was hurt by declining personal computer sales, as users continue to shift to other technologies.
Overall, profits declined by 6.5% compared to the same period last year.
Microsoft shares rose close to 3% in after-hours trading.
In a break from his predecessor, Mr Nadella spoke on a call discuss the company's earnings.