Post Office staff get 7.3% rise over three years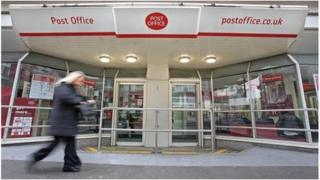 The postal union, the Communication Workers Union (CWU), says it has secured a pay deal covering more than 3,000 staff at Crown Post Offices.
It is worth up to 7.3% over 3 years.
The deal follows a long-running dispute between the CWU and Post Office Limited which resulted in 14 national strikes in the second half of last year.
The settlement includes a 3.9% pay rise from 1 April 2014. The further 3.4% will be paid in 1% instalments when targeted savings are achieved.
Workers will also get lump sums.
The first will be a £2,300 lump sum with a further £1,000 paid in 2014-15 in two £500 instalments.
This lump sum payment is for last year - when the three-year pay deal should have started.
Crown Post Offices are the the largest branches usually found on high streets.
The first industrial action took place in March last year after an 88% vote in favour of strikes. Further action continued throughout the rest of last year.
The CWU's national officer, Andy Furey, said: "This is an excellent settlement that is the result of long and difficult negotiations. Post Office workers have been very patient in waiting for this well-deserved pay deal since the first industrial action was taken in March last year."
The pay deal needs to be approved by CWU members by ballot.