China detains three Marubeni employees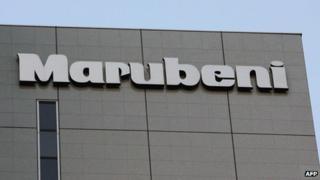 Chinese authorities have detained three employees working for a unit of Japanese commodities trader Marubeni.
They were working for the local arm of Columbia Grain Trading, a subsidiary of Marubeni that focuses on soybeans and other related agricultural products.
A Marubeni spokesman said the employees were detained "a few days ago" but that they did not know the reason why.
The move may also further strain ties between China and Japan, which have been locked in a territorial dispute.
According to a Reuters report, the detention was prompted by allegations of tax evasion on soybean imports.
Citing industry sources, the report said there may have been discrepancies in the reported values of imported soybeans.
China is the world's biggest buyer of soybeans, purchasing more than 60% of global imports. Soybeans are used both as food and for industrial purposes.
Under investigation
Several foreign companies operating in China have come under investigation in recent years.
British pharmaceutical giant GlaxoSmithKline's China offices were raided last year and four senior executives detained following allegations of bribery and tax fraud.
In 2009, an Australian executive and three Chinese employees of Anglo-Australian mining giant Rio Tinto were detained and later sentenced to jail over allegations of bribery and stealing commercial secrets.
The detention of Marubeni's employees comes at a low point in Sino-Japanese relations.
On Thursday, a Chinese court released a Japanese cargo ship that had been seized over a case related to wartime debts.
The ship's owner, Japanese transport company Mitsui OSK Lines, paid 2.9bn yen ($28mn) for the "Baosteel Emotion" to be released.
Japan lodged a diplomatic protest over the ship seizure earlier this week, and a top government spokesman warned the move may damage business ties between the two sides.
In 2012, the territorial dispute between Japan and China over islands in the East China Sea led to a boycott of Japanese goods on the Mainland.