Labour Party seeks to cut links with Co-op Bank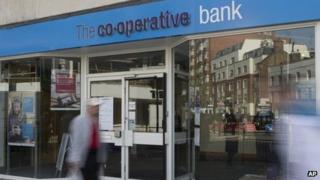 The Labour Party is looking to sever its links with the troubled Co-op Bank, bringing to an end one of the oldest political partnerships in the UK.
The BBC has learned that Ian McNicoll, Labour's general secretary, is looking to move loans worth more than £1m to the trade union-owned Unity Trust Bank.
The move comes after a year of controversy at the bank.
It included the resignation of its chairman Paul Flowers who is now facing charges for drugs possession.
Sources at the Labour Party have told the BBC's business editor, Kamal Ahmed, that negotiations have begun to move a £1.2m loan Labour has with the Co-op Bank to the Unity Trust Bank, and that once the loan has been moved Labour would move all its current account facilities to the same bank.
A Labour Party spokesperson said: "The Labour Party is constantly reviewing its financial arrangements and all decisions including any loan consolidations will be taken for commercial reasons."
However, senior sources say that the past year of controversy has strained relations.
The Conservative Party Chairman Grant Shapps said: "These proposals would hand the trade unions even more control over Ed Miliband and the Labour Party."
It is also understood that the bank, now 70% owned by American investors, wants to become "apolitical".
Relationship
Although it was reported last year that Labour had a £3.9m overdraft facility at the bank, party sources say that is no longer the case.
The move will see one of the oldest political and banking relationships come to an end.
The Co-op Movement and Labour joined as parties in the 1920s and party sources said the financial relationship started then.
Labour is battling to lower its debt burden and has reduced the amount it owes from £25m in 2006 to £4.5m today.
Earlier this week, it emerged that a major report into the near collapse of the Co-operative Bank will blame poor governance at the organisation.
The report will also say that the ill-fated takeover of the Britannia Building Society sowed the seeds of the problems at the bank.