Football Association hit by drop in broadcast money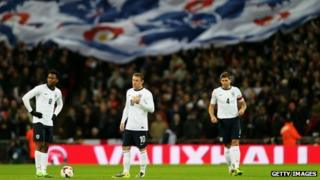 The Football Association was hit by a £34m drop in broadcasting rights income last season compared with 2011-12.
The drop was connected to a collapsed Setanta TV deal signed back in 2009.
According to the annual report from English football's governing body, overall income dropped from £327m in 2011-12 to £299m in the 2012-13 period.
However, it still made an operating profit of £28m and increased the amount it puts back into football by £11m to £108m.
Following the collapse of the UK arm of broadcaster Setanta, the FA agreed a short-term deal with ITV for England matches and the FA Cup.
That deal ends in July this year and has led to the £34m reduction in broadcast income.
New TV deals
But the report says such revenues are set to increase in coming seasons.
"This reduction is partly offset by the additional international broadcasting revenues generated by the rights granted to nine broadcasters over the six-year period to July 2018," it said.
"The domestic broadcasting rights for the four seasons from August 2014 to July 2018 were acquired by ITV for England friendly matches and by BBC and BT Sport for the FA Cup coverage.
"All of the group's broadcasting rights are sold to July 2018 and domestic broadcasting revenues will increase from the 2014-15 season."
'Radical solution'
England's lack of involvement in any major international tournament last year also contributed a £10m cut in overall revenues.
But there was extra income from the new national football centre at St George's Park, which contributed £15m, as well as an extra £7m from Wembley Stadium events.
These included the 2013 Champions League final and the London 2012 Olympics.
Meanwhile, FA chairman Greg Dyke has said "possible radical solutions" may be needed to improve the chances of young English players making the top grade in the game.
His commission looking at the issue is due to publish its results in May. In the FA report, Mr Dyke also said there was "responsibility across the game to do all we can in this regard".