Primark to open its first US stores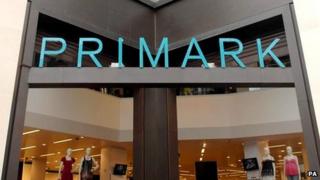 Budget clothing retailer Primark is to open its first US stores, beginning with a 70,000 sq-ft shop in Boston in Massachusetts.
Primark plans to open the store towards the end of 2015.
Negotiations are also under way to open more shops in the north-east of the US by the middle of 2016.
"After extensive research, it has been decided to take the [Primark] concept to consumers in the USA," Primark owner Associated British Foods said.
Primark has more than 250 shops in Europe, and has grown rapidly over the past 10 years.
The company has been expanding internationally since 2006, when it opened its first store in Spain. Shops in the Netherlands, Portugal, Germany, Belgium, Austria and France followed.
However, UK companies have had a chequered history in the US.
Marks & Spencer left the US market in 2001 after selling the Brooks Brothers clothing chain, and in 2013, Tesco offloaded its loss-making Fresh & Easy food chain.
However, Arcadia Group announced in February that it would continue US expansion of Topshop and Topman by opening a flagship store on Fifth Avenue in New York in the autumn.
Shares rise
The announcement of Primark's push into the US came as Associated British Foods reported half-year results. In the 24 weeks to 1 March, adjusted pre-tax profits rose 4% to £468m.
Group profits were largely driven by its retail and grocery arms, chairman Charles Sinclair said.
Operating profits at its retail operations, which include Primark and Penneys-branded stores in Ireland,, rose 26% to £298m.
In the UK grocery group, growth by Ovaltine and Twinings was partly offset by lower sugar prices and sales volumes at Silver Spoon.
Shares in Associated British Foods were up more than 8% in morning trade.
Bangladesh disaster payments
Primark is a major contributor to compensation for the victims and families of the Rana Plaza factory collapse in Bangladesh last year.
Out of a total of $12m (£7m) compensation, $7m was accounted for in last year's results, and $5m has been charged in the year to date.
Primark paid $2m in short-term compensation and has committed to long-term payments of $9m. A further $1m will be paid to the Rana Plaza Donors Trust Fund.
"We support the International Labour Organization in urging other retailers sourcing from Rana Plaza to donate to the Trust Fund so that it can pay out in full to the remaining victims," Mr Sinclair said.
At least 23 brands were produced at the garment factory.
More than 1,130 people died when the factory building near Bangladesh's capital, Dhaka, collapsed in April 2013.