What makes a business British?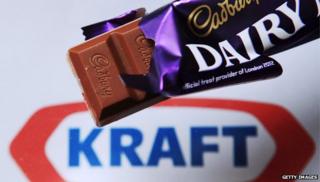 In 2010, the British confectionary company Cadbury was bought by the US mega-conglomerate Kraft Foods in a hostile and rancorous takeover.
Cadbury was an iconic British brand and a successful one. It had been established in Birmingham in 1824 and had grown to be the second-largest confectioner in the world after Mars.
But just how British was Cadbury in 2010?
At the point when Kraft launched its bid, over 80% of Cadbury's sales and employees were outside of the UK. Nearly half of Cadbury shares were already in the hands of North American investors while British investors held about about a quarter.
Cadbury had also done its own foreign acquisitions. In 1969, it merged with the multinational drinks company Schweppes. In 2008 the company de-merged, with the US drinks business being spun off into the Dr. Pepper Snapple Group.
In 2002, Cadbury-Schweppes had purchased the company Adams from Pfizer for $4.2bn (£2.5bn), giving it a strong foothold in the American chewing gum, breath mints, and cough sweets markets.
So Cadbury was already a large global company by the time Kraft came sniffing. The takeover though highlighted two fears of what might happen when a company becomes foreign-owned.
Firstly, a weaker commitment to maintaining production and jobs at home. Secondly, a switch in headquarters to a lower tax jurisdiction so the exchequer loses out.
Job losses
During the takeover negotiations, Kraft had promised to keep open the Somerdale factory near Bristol where chocolate had been made since 1935.
Soon after the deal had been completed, the factory was moved to Poland and 400 jobs were lost.
In 2006 the French car maker Peugeot closed its factory in Coventry. The suspicion at the time was the plant had been sacrificed in order to prevent job losses in France.
This was of course denied, but it demonstrated that foreign owners may face weaker resolve to protect jobs at home.
However, there have been many British companies that have moved production abroad.
This is especially the case in manufacturing where there has been a rapid growth of outsourcing since the recession in the early 1990s.
James Dyson is often cited as a champion of British industry. He had argued that the home of the industrial revolution should not lose the ability to make things.
Despite this, in 2002 the production of bagless vacuum cleaners was moved from Wiltshire to Malaysia and 800 jobs went with it.
Dyson said that it was a tough decision. But it was good for business, allowing the company to maintain cost competitiveness and expand into new growing Asian markets.
Take another example. Clarks shoes is quintessentially British, founded in 1825 and based in Somerset.
In the UK they are chiefly known for children's shoes, but in North America and Asia have managed to gain a foothold in a more fashionable segment of the market.
Although still headquartered in Somerset, the last factory was closed in 2005 and its shoe production is now chiefly based in China and Vietnam.
Tax base
Kraft Foods has since split itself into two main operations: a North American grocery business and an international snack and confectionary company Mondelez International.
Cadbury is now a subsidiary of Mondelez, which pays its tax in Switzerland, not the UK.
It is not the only company that has transferred its tax jurisdiction from the UK to Switzerland.
One of them is the chemists Boots, which has been a long-standing fixture on British high streets since its foundation in Nottingham in 1849.
In the last decade, it has changed hands several times, ranging from a US private equity firm and an Italian pharmacy group to a Swiss company.
In the summer of 2012, 45% of the company was sold to Walgreens, the largest drugstore in the US, with a view to a full merger within three years.
It would be interesting to know what proportion of Boots' UK customers were aware of the ownership changes and where its tax are now paid. My guess is it is quite low.
British companies similarly manage their taxes.
When Vodafone acquired the Mannesmann group in a £112bn deal, the purchase was run through a Luxembourg subsidiary. Experts have suggested that as much as £6bn had been written off in tax as a result.
National security
In 2006, Dubai Ports World (DPW) took over the British shipping company P&O which managed ports around the world, including 22 in the US.
The deal had been cleared by the CIFUS (Committee on Foreign Investment in the US) but when Congress caught wind of it, there was an uproar.
There were no such issues when the ports were managed by a British-owned company, but a Middle-Eastern owner caused all sorts of national security concerns.
Then-President George Bush intervened, arguing it sent the wrong message to those wishing to invest in the US. But DPW sensed it was a battle they could not win and offloaded P&O's American operations to a US entity.
Britain has been far less protectionist, with pretty much every major UK port is now in foreign ownership.
P&O is owned by DPW, including the new London Gateway super port. The Associated British Ports were bought out by the Admiral consortium - led by US investment bank Goldman Sachs.
Likewise our major airports are owned by a consortium led by the Spanish firm Ferrovial who purchased the British Airports Authority in 2006. The company has since been rebranded as Heathrow Airport Holdings.
Take the energy market. The big six energy firms account for over 96% of residential energy supply in the UK and three-quarters of the generating capacity. Four of these are foreign owned.
E.ON is German-owned. Scottish Power is a subsidiary of Spain's Iberdrola. Npower is part of the German power giant RWE. EDF is a subsidiary of the state-owned French firm EDF Energy.
It is rather ironic that much of the electricity industry privatised by the British government has essentially been re-nationalised by the French.
Only Centrica (the retail and gas trading part of the former British Gas) and Scottish and Southern Electricity (SSE) remain in British ownership.
However, when in 2006 the first of these two was rumoured to be a takeover target for the Russian state-owned utility company Gazprom, the then British Prime Minister Tony Blair announced he would not block a deal.
This was despite the persistent worry in Europe of a too greater dependence on Russian energy, which has again come to the fore with the turmoil in Ukraine.
Rising energy prices have been a political hot potato of late, contributing to a rising cost of living and a squeeze in real incomes.
An Ofgem report in 2012 attacked rising profit margins in the industry, but it was clear that there was little difference between the British and foreign-owned companies.
In this case, it seems the gripe may be with private rather than foreign ownership . But as I've written before, UK companies are among the biggest beasts in telecommunications, finance, oil and mining.
London headquarters
There are many firms that are British in a legal sense but not really British.
SABMiller is the second-largest brewing company in the world. It is headquartered in London and listed on the London Stock Exchange.
However, it has only been here since 1999 when South African Breweries moved to the UK to raise money to fund its acquisition of the American Miller Brewing Company in 2002.
Or take Rio Tinto, headquartered in London and listed on the London Stock Exchange but with most of its operations overseas. However, its history is more British, having been founded in London in 1875.
So when it comes to big business, few are really tied to one particular country.