Eight renewable energy projects approved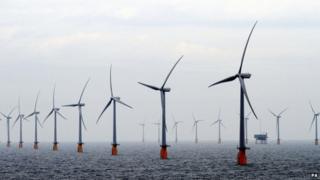 Eight major renewable energy projects, expected to support 8,500 jobs, have been given government approval.
The contracts, which include offshore wind farms and conversions of coal-powered plants to run on biomass, are the first awarded under the government's energy market reforms.
Energy Secretary Ed Davey said the projects would help power up to three million homes.
He also expects them to attract £12bn in private investment.
The eight projects will all receive one of the government's Contracts for Difference (CfDs), which effectively guarantee prices for renewable energy suppliers.
These could cost up to £1bn each year in subsidies, but the government says they would encourage firms to invest much more than that in low-carbon electricity generation.
The approved schemes include offshore wind farms in Liverpool bay, and off the Moray, Norfolk and Yorkshire coasts.
However, electricity producer Drax said it had started legal proceedings against the government over a decision not to support the conversion of one of its coal-burning units to biomass under the scheme.
Although the conversion of one of its units at Selby to biomass has got the go-ahead, the government said the proposed project for converting Drax's Unit 3 at the plant did not meet all its assessment criteria for the CfD scheme.
In late morning trade in London on Wednesday shares in Drax were down by 13%.
'Secure, clean energy'
The projects approved are:
Beatrice offshore wind, Outer Moray Firth
Burbo Bank offshore wind, Liverpool Bay
Drax 2nd biomass conversion unit, Selby
Dudgeon offshore wind, north of Cromer
Hornsea offshore wind, off the East Yorkshire coast
Lynemouth biomass conversion, Ashington, Northumberland
Teesside biomass with combined heat and power, Middlesbrough
Walney extension offshore wind, off Walney island
Mr Davey said there were more potential renewable energy projects than the government was able to back, and if one of the eight initial projects did not go ahead, then another similar project would be supported.
There were 57 original applications for backing.
"We are confident that the eight will go ahead, but if a company decides not to go ahead.... there will be another one queuing up behind," Mr Davey told the BBC's Today programme.
"These investments are critical to make sure we have got secure, clean energy," he said, pointing to energy supply issues arising from the Ukraine crisis.
Mr Davey also said the projects would add nearly 5% to the UK clean energy supply.
"These are the first wave of our reforms, designed to stimulate investment in low carbon energy, but in a more affordable way than previously," he said.
However, he added that the measures would add 2% to household energy bills by 2020, when it is hoped some 30% of electricity will come through renewable means.
The Department of Energy and Climate Change (Decc) said it expected the investment contracts for the successful projects would obtain parliamentary approval in May 2014, when they would then take legal effect.
'Access rights'
Mr Davey also discussed fracking, and whether companies would be allowed to drill under private land without the permission of owners.
It comes a day after Whitehall sources confirmed to the BBC that ministers wanted to give energy companies the right to run shale gas pipelines under private land.
Mr Davey told the BBC that the government was "looking at the access rights".
"The question is how those land owners are compensated and how those projects can go ahead," he added.
Environmental campaign group Friends of the Earth said the projects would attract billions of pounds of investment and provide thousands of new jobs.
"It's good that the government recognises renewable energy to be our best, and most available, solution," said spokesman Alasdair Cameron.
However, he called on the government to abandon its "reckless pursuit" of fracking, which, he said, was "dirty, unpopular and will not deliver for years".