Stephen Fitzpatrick: Taking on the big six energy firms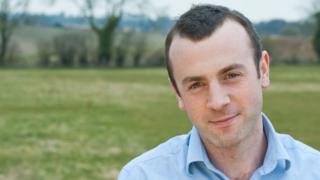 It is fair to say that Stephen Fitzpatrick has made sparks fly in the UK's energy supply sector.
Last autumn, the founder and boss of small provider Ovo Energy made headlines when he attacked price increases by the "big six" suppliers.
Speaking to MPs on the Energy and Climate Change Committee, Mr Fitzpatrick said: "I can't explain any of these price rises."
The 36-year-old added that Ovo was, by contrast, not increasing its prices because the cost of wholesale energy - the electricity and gas that suppliers buy before selling on to consumers - had not actually risen.
Mr Fitzpatrick's comments came at a time of growing public - and political - anger at higher fuel bills.
Thanks to the publicity, Ovo's customer numbers rose sharply.
And Mr Fitzpatrick's hard-hitting testimony was no doubt a contributory factor behind energy sector regulator Ofgem announcing last month that it had asked the new Competition and Markets Authority to investigate whether the domination of the big six - British Gas, Npower, SSE, Scottish Power, E.On, and EDF - was hampering competition.
For someone who only launched Ovo Energy in 2009, and prior to that had never worked in the energy sector, Mr Fitzpatrick is certainly making a name for himself and his company.
'Five-year plan'
Born and bred in Northern Ireland, Mr Fitzpatrick launched his first company in 2001 after graduating from Edinburgh University.
The business advertised properties to rent in Scotland's four largest cities, first via a website, and then in a free newspaper.
Mr Fitzpatrick says it was "moderately successful", but that ultimately he closed it down because it wouldn't be possible to scale up the business sufficiently.
Speaking at Ovo's office in the London district of Notting Hill, he says: "The big problem was the limited number of estate agents. Some of them were customers, and some of them would never be customers.
"The thing it really taught me was that if I was going to go into business again, I wanted to be in an industry where I'd never run out of new customers to talk to. So I started to look at big businesses and industries, and energy was the one that genuinely caught my attention."
Doing some research, Mr Fitzpatrick discovered that it would be possible to get a licence from Ofgem to launch an energy supply company. The only catch was that he calculated it would require a minimum of £350,000 to get such a business up and running.
With little money to his name at the time, and no-one prepared to lend him any for such a hare-brained idea, Mr Fitzpatrick decided he would simply save up.
He says: "That was in 2003, and so I decided to move to London, get a job in the City, and save the money to launch an energy supply company in 2008. That was my five-year plan."
And so Mr Fitzpatrick went to work as an investment banker at JP Morgan, while researching all he could about the energy industry in his spare time.
And while some of his colleagues lived extravagant lifestyles, he and his girlfriend made do with things like buying an old, second-hand car from eBay.
So by 2008, at the height of the financial crisis, Mr Fitzpatrick had successfully saved up £350,000, helped by the money he made by selling his home in London.
He says: "Everything was crashing down in the City at the time, and there I was handing in my notice - it was a great time to leave."
'Good lesson'
Launching Ovo in 2009, Mr Fitzpatrick says his time working for JP Morgan gave him crucial experience of dealing with complicated finances.
"Had I launched an energy business in 2003 it is almost certainly the case that we would have been out of business very quickly... there is a lot to get right," he says.
"At the moment we are buying between £10m and £15m of gas and electricity each week, and we have to make sure we know very clearly how much we expect our customers to use."
Mr Fitzpatrick adds that getting the numbers right is crucial because "it is very expensive" to buy too little or too much electricity or gas.
Yet he admits that mistakes were made very early on, such as buying £3m of electricity before Ovo had the correct licence to buy it.
He says: "Essentially unless we fixed that problem we'd have had to pay the £3m, and we wouldn't have got any electricity for it. We solved it, but it took us a couple of months, and cost us a fair bit of money. But it was a good lesson."
Attention to details
In terms of the strategy for making Ovo successful, Mr Fitzpatrick says the central mantra from day one was "trying to figure out ways in which we can do hundreds of little things better".
He adds: "A lot of perceived wisdom says you have to be really good at one thing. But it is too often the case that a more established competitor can simply emulate your unique selling point, and do so at a lower price.
"So instead I thought I would employ a strategy of looking at lots of little things... which when you add them together make a great difference."
And so Mr Fitzpatrick says the company is obsessed with things like making its website so user-friendly that fewer customers need to ring its call centres, thereby helping to keep its costs down.
Meanwhile, it tries to work out the best possible weather and demand forecasts so it buys only the energy it requires, again to keep expenditure as low as possible.
And for those account holders who do phone its call centres, staff are picked and trained to be as friendly and helpful as possible, to ensure high customer satisfaction levels and therefore large numbers of recommendations.
This has all helped Ovo see a big rise in customer numbers, which have risen by 50% since the start of 2014 and now stand at 310,000, albeit still less than 2% of the market.
The number of staff at Ovo now totals 400 across its offices in Bristol and London, with 150 new people hired in the past eight weeks.
Mr Fitzpatrick admits that such rapid growth has caused some problems, but that customer satisfaction levels have held up strongly.
"We have literally not been able to hire people fast enough," he says. "There is a lot of change happening, so it is not perfect... but at the moment our customer satisfaction levels are staying very high, so we seem to be doing a good job."
Looking ahead, Mr Fitzpatrick says he wants Ovo to have one million customers by 2017, whom he says he is confident of securing from the big six.
"Like most entrepreneurs, I love the competition, and it is much better being the fast-growing small firm rather than a market leader."