Co-op Bank report to blame governance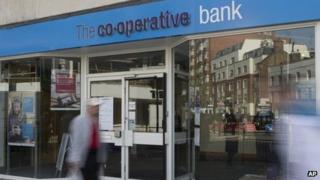 A major report into the near collapse of the Co-operative Bank will blame poor governance at the organisation.
It will also say the ill-fated takeover of the Britannia Building Society sowed the seeds of the problems at the bank.
The BBC's business editor, Kamal Ahmed, has been told Sir Christopher Kelly's draft report will say the organisation was "culpable" and checks made before it bought the Britannia were "cursory".
Its findings will be challenged by former members of the Co-op board.
The members, who also worked for the Britannia, will write to Sir Christopher this week to claim the report is not factually accurate.
'Scathing'
The report into the bank was commissioned by the Co-op Group and is due to be published next week.
It is the latest stage in the battle to uncover the truth about how one of the UK's oldest banks failed after the discovery of a £1.5bn black-hole in its balance sheet.
Our business editor said the draft report was "scathing".
It says the ill-fated takeover of the Britannia Building Society in 2009 was the at the heart of its downfall.
Our business editor said a draft of the report says that the Co-op Bank board did not have "their eye on the ball" during the takeover of the Britannia.
It says that "due diligence" - the work done before a takeover is agreed - was "extremely cursory".
'Disastrous'
The report also says that there were major problems with the Co-op Group's takeover of the Somerfield supermarket chain.
Those who will challenge the report's findings include Neville Richardson, the former chief executive of the Britannia, who has said that IT failures and the attempt of the Co-op Bank to take over 630 Lloyds Bank branches added to the problems at the bank.
Both the Co-operative Group and the bank announced major losses in the past few weeks.
The group's losses were £2.5bn for 2013 - the worst results in the group's 150-year history, with £2.1bn of that coming from the Co-op Bank.
The bank's figure contained a trading loss of £1.44bn for the year to December, when the group lost control of Co-op Bank to US hedge funds.
Chief executive Richard Pennycook said 2013 had been a "disastrous" year. He said the results "should serve as a wake-up call to anyone who doubts just how serious the challenges we face are".
He said in those five years the group had become bloated in terms of its costs and strategy, and was now in need of wholesale reform if "inexorable decline" was to be avoided.
The group is trying to cut costs, and has already announced £100m of cost cuts this year. Deeper cuts are expected to be made, possibly including job losses.