India's top court lifts iron ore mining ban in Goa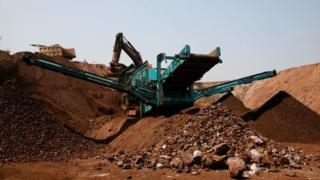 India's Supreme Court has lifted a ban on iron ore mining in the western state of Goa, but limited extraction to 20m tonnes a year.
The miners will also need to renew their leases with the Goa government.
All 90 iron ore mines in Goa were shut down after a government-backed inquiry in 2012 alleged they were illegal and lacked environmental permission to operate.
It had claimed the state lost nearly $6bn (£3.75bn) due to illegal mining.
The ban in Goa followed a similar move in the southern state of Karnataka in 2011.
Recovery
According to some estimates, those restrictions have cut India's iron ore exports by 85%, or 100m tonnes, over the past two years.
Analysts said the lifting of the ban may help trigger a gradual recovery in the sector.
"The 20m tonnes is a reasonable quantity to start with," said Basant Poddar, vice-president of the Federation of Indian Mineral Industries.
"Fresh mining will start after the monsoon and exports [of iron ore] may start in September."
The court has also asked an expert panel to study the environmental impact of the mining and give its final recommendation on the annual cap on extraction within six months.