Lethal chainsaws among port seizures, says trading standards report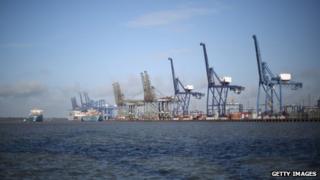 "Lethal" chainsaws and dangerous toy dolls were among more than a million unsafe goods that have been seized at the UK's ports and borders.
Unsafe light fittings and gas heaters were also among the items intercepted, the report for the National Trading Standards Board said.
It suggested that stopping these goods saved £281m a year that would have been spent on dealing with injuries and fires that they could have caused.
All the shoddy items were destroyed.
Smoke drama
The report included details of counterfeit chainsaws found arriving at the port of Felixstowe that smelled of petrol and did not carry the appropriate safety marks.
They were sent for testing, where they were described as lethal. Despite the result, the importer wanted to have them returned, so they could be sold outside of the EU in Morocco instead.
However, they were destroyed by the UK authorities.
Trading standards officers in Portsmouth also found a smoke-generating machine that was being returned. The note on it explained that it had been used in a school drama production but had caught fire, igniting the stage and melting some of the other equipment around it.
These were among 1.11 million unsafe goods that were seized since 2010, according to the report, which focused on the borders considered to be the biggest threats as a route for unsafe goods.
"First and foremost, any product coming into the country needs to be safe for consumers," said Consumer Minister Jenny Willott.
"However, we also need to crack down on those who try to bring in unsafe or illegal items to protect legitimate businesses trying to compete on a level playing field."