New Sydney airport go-ahead splits business and locals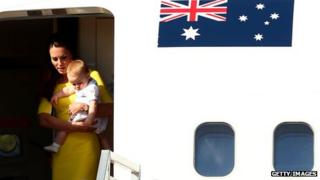 Australia has finally decided after a fractious debate lasting decades to build a second airport in Sydney, its biggest and most populous city.
The discussions and quarrels have been so drawn out that Prime Minister Tony Abbott, 56, who announced the momentous decision, was a schoolboy when the project was first mooted.
Over the years various proposals have been suggested and rejected; although constructing a runway out to sea was never a serious contender, other plans to build Sydney's second airport in Canberra or Newcastle, a port city 160km (100 miles) to the north, were considered but shelved.
Then, at last, news stations delivered word of a long-awaited breakthrough. "After many years of indecision, the federal government has finally named the site for Sydney's second airport. It's to be at Badgerys Creek."
However, this was a bulletin from the 1980s, and the arguments were to meander for another 30 years.
'Good news for Australia'
"It has been the great marathon of public policy decision-making in Australia," says Tim Harcourt, an economist at the University of New South Wales.
In the end Mr Abbott's conservative government has opted for Badgerys Creek, a semi-rural district about 50km west of central Sydney.
"The planning and design work will start immediately, and my expectation is that construction will begin in 2016," the prime minister told reporters.
"I think this is a good news story for western Sydney. It's good news for jobs and, because of the importance of Sydney in our national economy, it's good news for Australia."
During last year's federal election campaign, Mr Abbott pledged to be an "infrastructure prime minister" who would support bold projects to revive economic growth as Australia's mining boom fades.
Political rarity
The Badgerys Creek airport will cost an estimated 2.5bn Australian dollars (£1.4bn; $2.3bn) that will be funded mostly by the private sector, with first flights expected in the mid-2020s.
Although the airport will be initially modest in size, with a single runway and a terminal building, analysis suggests it could be economic gold for western Sydney, which is home to two million people - just under a tenth of the national population.
The sprawling region that stretches to the foothills of the Blue Mountains has been beset by transport problems and limited employment opportunities.
David Borger, of the Sydney Business Chamber, told the BBC that if the airport had lift-off by 2027 it would eventually create an additional 50,000 jobs.
"It is a long way from dense urban communities, so it is the best possible place to put an airport," Mr Borger said.
"What we are seeing is something incredibly rare in Australian politics. We are seeing people across the political divide joining up at a leadership level saying this finally must happen."
'Wasteland'
Sydney's current airport is Kingsford Smith, named after an intrepid interwar aviator, 10km south-east of the city centre.
While the site at Badgerys Creek may lack the appeal of the existing facility's greater proximity to central Sydney, it could become a hub for budget airlines that could take advantage of a less restrictive curfew on flights.
However, opposition to the plan has been intense. There are concerns about the effect of aircraft noise on health, the impact on property values in nearby suburbs and on the environment.
Frank Carbone, mayor of Fairfield city in south-west Sydney, has complained that he has not been properly consulted about the new airport down the road.
"It is like approving a 50-storey apartment block without seeing the plans first," he says.
While other councils believe the economic benefits will be significant, disgruntled community groups are vowing to fight the proposal.
Geoff Brown, of the Western Sydney Conservation Alliance, says the Badgerys Creek scheme would be a disaster for residents.
"It's going to make western Sydney a nightmare to live in," he says.
"Growth and a fair go for western Sydney doesn't mean trashing the place, doesn't mean turning it into a wasteland of factories and industrial sites."