Can small firms benefit from the big data dividend?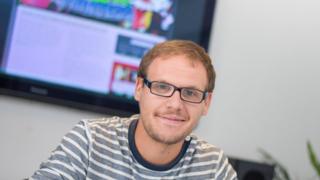 New Microsoft boss Satya Nadella reckons the "data dividend" could be worth $1.6 trillion (£950bn; 1.2tn euros) to big business over the next four years.
But what about the little guys?
Is big data - and all the useful insights we can glean from analysing this growing plethora of digital information - solely the preserve of big business?
Far from it, comes the resounding answer from a chorus of experts.
Big data, and the analytical techniques associated with it, could help give your small business the tools it needs to grow rapidly and even go global, they say.
And turning all this data into understandable, useful applications is becoming a business opportunity in itself.
"Big data analytics is absolutely relevant to small businesses," says Dave Coplin, Microsoft's chief envisioning officer. "There's a growing number of open data sets out there that could be useful, as well as data marketplaces small businesses can go to."
Real time analytics
Dave Bailey, chief executive of fast-growing digital games company Mediatonic, says big data is "fundamental to our business and really important for many small-to-medium sized companies. It directs our strategy."
As Mediatonic's games, such as Disney's Superbia, are digital only, players are constantly generating vast amounts of user data, says Mr Bailey, such as when, where and how long they play, and which parts of the game they find especially hard or easy.
Understanding game player behaviour is crucial in an industry that has moved primarily to a free download model, where revenues come mostly from in-game purchases and half of players never return, he says.
"We can test different versions of a game on different demographics at the same time," he says, "and tweak them in response to the real-time data we receive. We can now understand each individual player."
The fact that storing large amounts of data has become "quite inexpensive" for small businesses certainly helps, he says.
Global reach
In another example, French online advertising company, Criteo, grew very quickly on the back of big data analytics.
By tracking customer journeys across the web they learned how to serve personalised adverts tailored to the interests of the user based on their previous surfing behaviour.
The adverts can be changed in real time according to who is visiting the site, so two different people will see different content.
Digital data was its currency and understanding and managing it core to business success, says vice president of engineering, Julien Simon.
The company, which uses MongoDB for its main database, now serves 2.5 billion banner ads daily, works with 5,000 advertisers worldwide, and has to store an extra 20 terabytes of data each day as a result.
Accessible?
But many small businesses won't be in a sector that generates large amounts of digital data, so how is any of this relevant to them?
Andrew Jennings, chief data analytics officer at San Jose-based FICO, a global data analytics company, admits: "For sole traders it's not realistic to expect big data to apply to them directly, but they can access services that rely on big data analytics, such as maps and weather forecasts."
In a mobile world populated by apps, businesses will be able to plug in to the power of big data analytics through their phones, believes Jonathan Gray, chief executive of app development platform, Continuuity.com.
His company is helping app developers build and integrate their apps with big data management systems like Hadoop, thereby enabling users to analyse live data streams in real time.
"A lot of small businesses are not going to have their own developers, so our belief is that the value is in the apps not the infrastructure," says Mr Gray.
"We aim to become the platform businesses come to in order to buy big data applications in the cloud."
Practical uses of big data analytics could include a local retailer selling brollies and barbecues being able to access weather forecast data, current consumer sentiment on social media, and customer location as tracked by mobile phones.
The retailer would gain valuable insight into how much stock to buy in and how to promote its business, suggests Matt Asay, MongoDB's vice president of business strategy.
"Admittedly, small businesses won't have access to the same store of customer data as Amazon, but there are lots of public data sets out there that could be useful," he says.
In another example, taxi firms could make use of rail and air transport delay data to plan where to concentrate their vehicles and when to deploy them, he says.
Continuuity's Jonathan Gray envisages farmers plugging in to big data capabilities on their phones and mobile soil analysis readers, accessing huge data sets on weather, soil types, optimum sowing times and crop yields, for example.
Data-driven business
Even if a fledgling business has a small customer database, it is still important to think in big data terms, argues Jed Mole, European marketing director for Acxiom, a big data specialist.
"We live in a data society," he says. "No business of any size can afford to ignore it."
He believes big data "is an enabler for small business to become the big business of tomorrow".
Mr Asay agrees, saying: "These days all businesses, whether small or large, have to keep track of their customer data and metadata so they can respond quickly to what their customers are doing and push messages to them.
"The need to deal with modern, messy data exists whether you're building an app for 20 people or 20,000 people," he adds.
Companies such as Flurry and Crittercism offer app data analysis, while BearingPoint's HyperCube offers to turn raw data into useful insight businesses can act on.
And the most obvious relevant source of big data for small businesses is social media, whether as a communications tool or a way to gain consumer insight.
A growing number of companies, such as Datasift, mBlast and SecondSync, specialise in turning the social media data "hosepipe" into useful intelligence for businesses of all sizes.
Size isn't everything
The good news for small businesses thinking that this data dividend does not apply to them is that they "have a much greater ability to innovate than big companies," believes Duncan Ross, director of data science at analytics company Teradata.
"Big data presents many business opportunities," he says. "But you have to be prepared to pivot and follow where the data - and the money - takes you."
FICO's Andrew Jennings concurs, saying: "When it comes to big data there's a fixation on the word 'big', when it's really not the size that matters but how well you use the data."