Mulberry warns of lower profits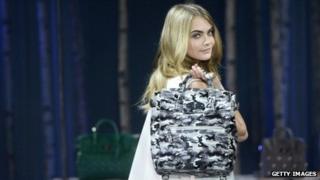 Luxury goods firm Mulberry has issued its second profit alert since Christmas and says it will look to introduce new "more affordable" products.
It said profits for the year to 31 March would be about £14m, below City estimates of £19m.
Mulberry is continuing to search for a new chief executive, following the departure of former chief Bruno Guillon last month.
It is the fourth profit warning the firm has issued in two years.
Godfrey Davis, who became interim executive chairman of Mulberry following Mr Guillon's departure, said: "Following the recent change in management, we are focussing on achieving sales growth through the reinforcement of our product offering at more affordable prices to meet the expectations of our loyal customers.
"This will have a short term consequence but is necessary to ensure the future strength of the Mulberry brand."
Mulberry said it remained committed to its international expansion but would slow the rate of store openings to five in 2014-15 from original plans for eight.
"As a consequence of these factors, in particular the pricing strategy, there will be a material adverse impact on profit whilst brand momentum rebuilds," the company said.
Global brand
Under Mr Guillon, Mulberry raised its prices in an effort to become more exclusive and win back customers who were upgrading to more expensive brands.
In June last year, the company's creative designer, Emma Hill, left after six years with Mulberry.
Ms Hill was credited with turning Mulberry into a global brand with creations including the Alex and Bayswater handbags.
In January, Mulberry issued a profit warning that saw its share price slump 27%.
At the time it said it would substantially miss City expectations after "significant" cancellations of wholesale orders from South Korea and disappointing UK sales.