Lamb curries and kebabs 'often another meat'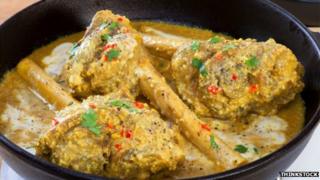 Takeaway owners are to face a new testing programme, after a watchdog found nearly a third of lamb takeaways it checked contained a different meat.
The Foods Standards Agency (FSA) found that 43 out of 145 samples of lamb takeaways - usually curries or kebabs - were wrongly described.
The FSA said 25 of the samples were found to contain only beef, which is cheaper than lamb.
Chicken and turkey were also found, but no samples contained horsemeat.
As a priority, local authorities are now being asked to test 300 samples of lamb from takeaways, starting at the beginning of May.
Takeaway owners are also being warned that they can be fined up to £5,000 for mislabelling food.
"Prosecutions have taken place against business owners for mislabelling lamb dishes, but the recurring nature of the problem shows there needs to be a renewed effort to tackle this problem," said Andrew Rhodes, chief operating officer at the FSA.
"Clearly the message isn't getting through to some businesses," he added.
'Fraud'
The consumer organisation Which? found an even higher instance of contamination, after a series of tests in London and Birmingham.
It found 40% of lamb takeaways contained other types of meat, with some containing no lamb at all.
Of 30 samples tested in Birmingham, 16 - more than half - contained other meat.
In a similar experiment in London, meat in eight of the samples was not pure lamb.
As part of its campaign to "Stop Food Fraud", Which? is now calling on the government to take further action to restore customer confidence in the origins of meat.
"The government, local authorities and the FSA need to make tackling food fraud a priority and take tougher action to crack down on the offenders," said Richard Lloyd, the executive director of Which?
Horsemeat
Which? also wants the government to implement some of the recommendations in the Elliott Review, which followed last year's horsemeat scandal.
In the UK, 17 different beef products were found to contain traces of horsemeat, while supermarkets including Tesco and Asda were forced to withdraw products.
Among Professor Elliott's 48 interim recommendations, he suggested setting up a food crime unit, to police food standards better.
Earlier this week, the FSA also announced a new round of testing on beef products, to check for horsemeat.
The tests have been ordered by the European Commission following last year's scandal.