UK unemployment falls to five-year low of 2.2m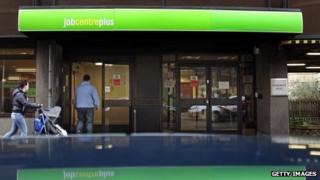 The number of people out of work in the UK has fallen by 77,000 to a five-year low of 2.24m in the three months to February, official figures indicate.
The unemployment rate now stands at 6.9% of the adult working population, the Office for National Statistics (ONS) said.
Average earnings in the three months to February grew 1.7% compared with a year earlier.
It comes as inflation was recorded to have fallen to 1.6% in March.
It is the first time since the spring of 2010 that the increase in average wages has exceeded the Consumer Price Index (CPI) measure of inflation.
It is also the first time since the recession that unemployment has fallen below 7%.
At just over 30 million, the number of people in work remained at its highest level in a generation.
The number of people claiming Jobseeker's Allowance fell by 30,400 to 1.14 million in March.
Record numbers
The jobless figure for 16 to 24-year-olds fell by 38,000 in the three months to February to 881,000, the lowest for five years.
There were 1.42 million people working part-time because they cannot find full-time work, a fall of 17,000 over the quarter, but 10,000 higher than a year ago.
And the number of people classed as self-employed rose by 146,000 to 4.5 million, the highest since records began in 1992.
Joe Grice, chief economic adviser at the ONS, said: "These figures - rising employment and falling unemployment and inactivity - continue the strong trend in the labour market that has been seen in recent months. Self-employment has again been a prominent growth area."
The last time unemployment stood at 2.2 million was at the height of the financial crisis in June 2009. At that time, it meant unemployment had hit a 13-year high.
Chancellor of the Exchequer, George Osborne, hailed the "strong jobs numbers" as further evidence that the coalition government's economic plan is working.
Mr Osborne said: "There are now a record number of jobs in Britain - and today we have taken a further step in meeting the ambition I have set for full employment. Every job created means another family with greater economic security and the prospect of a brighter future.
"These remain difficult times for families facing pressures on their budgets, and much work needs still to be done to build a resilient economy. But today's news supports the argument we have made all along that the only way to see rising living standards is to grow the economy"
Shadow work and pensions secretary Rachel Reeves welcomed the latest unemployment figures, but called on the government to implement Labour's proposal for a jobs guarantee to tackle help youth unemployment.
She added: "At long last, earnings are finally rising faster than CPI inflation when bonuses are included, but after four years when prices have risen faster than wages, there is a huge amount of lost ground to catch up.
"Working people are now over £1,600 a year worse off than when David Cameron came to office, most people are not feeling any recovery, and the link between the wealth of the nation and family finances remains broken.
"It's deeply complacent and out of touch for the Tories to try and claim this deep-seated cost-of-living crisis has suddenly been solved. Only Labour has a clear plan to earn our way to higher living standards for all, not just a few at the top."
Interest rates
At 6.9%, the unemployment rate has fallen below the threshold at which the Bank of England said last August it would consider raising interest rates under its policy of forward guidance.
But economists suggested it was still too soon to see any upward movement from the current historic low rate of 0.5%.
Howard Archer, chief UK and European economist at IHS Global Insight said it remained "more likely than not" that the Bank's Monetary Policy Committee (MPC) would hold off taking any decision on interest rates until 2015.
He added: "Not only has the Bank of England repeatedly stressed that an unemployment rate of 7% is not a trigger for an automatic interest rate hike, but it modified its forward guidance policy in February to focus on the amount of slack it considers to be in the economy, based on a broad range of indicators.
"The Bank of England will likely regard the fact that there are 1.421 million people who are working part-time because they cannot find a full-time job as evidence that there is still substantial slack in the labour market."
David Kern, chief economist at the British Chambers of Commerce, said the latest ONS figures demonstrated the resilience and flexibility of the UK labour market.
But he added: "Concerns do persist, however. The youth unemployment rate is still much too high at 19.1% and, while long-term unemployment is falling, more than 800,000 people have been unemployed for more than a year.
"These concerns aside, it is clear that the recovery is on the right track. To consolidate this, it is important that we see measures to increase productivity and firmer action on youth and long-term unemployment.
"Improved access to finance, incentives to recruit apprentices, and support for export and investment will go some way to achieving this."