Why China is doing better than its headline GDP figure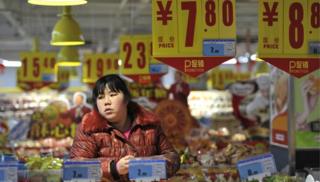 Economic growth of 7.4% in the first quarter is in line with China's 2014 annual year-on-year target of about 7.5% growth.
The slowdown from the 7.7% GDP growth registered in the past two years is due to the government rebalancing the economy, shifting away from credit-fuelled investment and towards more consumption supported by income.
The National Bureau of Statistics (NBS) says that the growth figures are largely what was expected and what is more important than GDP is the growth in incomes. Rural incomes are up 10.1% from a year ago, while urban incomes have increased by 7.2%.
The NBS points out that this is better than last year, which is more important than the slowdown in overall GDP growth, which looks more worrying at 1.4% when computed on an annualised quarter-on-quarter basis.
In other words, if the entire year grew at the pace of the first three months, then China will be far below its growth target of 7.5%.
This increase in incomes contributes to retail sales growing at 12.2%, which is a sign of growing consumption.
Plus, new loans show a dramatic fall of 19% from a year ago, while money supply is expanding at the lowest on record. So the growth in consumption isn't due to just to debt.
Of course, credit-fuelled investment is what the Chinese government is trying to move away from, particularly in the housing market.
Real estate comprises some 16% of GDP, a figure that is reminiscent of European countries felled by housing busts, such as Ireland. The worrying construction sector is still an issue, as fixed asset investment expanded at 17.6% in the first quarter. But the restraint of credit is having some impact on deflating house prices.
Restraining credit, though, is also dampening industrial output, which expanded at around 8%, the slowest pace since the 2009 global recession.
So the rebalancing of the economy now sees consumption as proxied by retail sales outpacing industrial production. Rural incomes are growing more quickly than urban incomes, which reduces the rural-urban income gap and improves the consumption prospects of half of the Chinese population.
By the gauge of incomes and not the headline GDP figure, the economy is doing better, not worse, than last year.
Tricky balance
It is possible for the greater development of the services economy to create more jobs and raise incomes, since it is more labour-intensive than the capital-focused investment sector.
But as an economy slows, there will be less demand - and it is an open question as to whether China can create the seven million jobs a year needed for its new graduates and another 10 million for rural migrants moving to cities as part of the government's urbanisation drive.
Chinese Premier Li Keqiang has said that a growth rate of at least 7% is needed for that level of employment creation. This is why China unleashed a fiscal stimulus package earlier this month, to cushion the slowdown induced by the rebalancing of its economy.
If China can manage the tricky balance between achieving a more sustainable growth model while sustaining a high enough rate of growth to create jobs, then it would be doing better than its headline GDP figures indicate. For now, it's what the government is claiming to have achieved already.