Coca-Cola's 15-year fizzy drinks sales high ends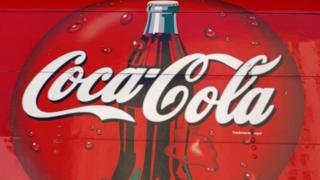 The amount of fizzy drinks Coca-Cola sells across the world has fallen for the first time in 15 years.
The company said volumes of carbonated drinks sold fell by 1% in the first quarter of the year.
The fall was particularly marked in much of the UK, with sales in Great Britain falling by more than 10%.
Overall, the volume of drinks sold globally rose by 2%, with sales of noncarbonated drinks, such as Powerade, offsetting the fall elsewhere.
Fizzy - or carbonated drinks - account for 75% of all drinks sold outside the US.
In Great Britain, the company's bottle size shrank, although prices stayed the same.
In the UK and elsewhere, fizzy drinks manufacturers have come under pressure from doctors and researchers, who have suggested links between drinks with a high sugar content and obesity.
Sales of Coca-Cola's sparkling drinks sales volumes in Europe were down 5%.
Marketing
Demand for still drinks, including juices, ready-to-drink teas, sports drinks and energy drinks, is growing more quickly.
In a bid to boost demand, Coca-Cola said it would increase its global marketing budget this year by $400m to more than $4bn - an increase of more than 10%.
Net income for the first quarter of the year fell to $1.63bn, (£970m) compared with $1.77bn for the same period a year ago.
However, the results beat market expectations and sent the shares 4% higher in mid-afternoon New York trading.
"Our growth momentum is steadily improving in line with our expectations... [We are] gaining global volume and value share in nonalcoholic ready-to-drink beverages," said Coca-Cola Company chief executive Muhtar Kent.