US inflation stays low in March as petrol costs fall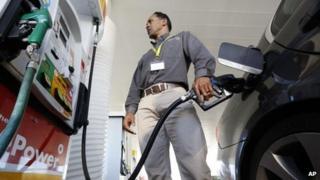 A sharp fall in the price of petrol helped to keep US consumer inflation well below the Federal Reserve's 2% target in March.
The Consumer Price Index rose 0.2% last month, up from 0.1% in February, according to the Labor Department.
Petrol prices fell 1.7% in March, helping to offset a 0.4% increase in food prices driven by rises in the cost of meat, fish and eggs.
March's increase means prices are now up 1.5% from a year earlier.
Low inflation has given the US central bank the leeway to carry out a massive stimulus programme aimed at stimulating growth in the economy.
But the Fed has been scaling back some of that stimulus in recent months.
Its bond-buying programme - which for most of last year was running at $85bn (£50bn) a month - has been cut by $10bn at the Fed's last three meetings so that it now stands at $55bn a month.
The bond purchases are aimed at lowering long-term interest rates to encourage more borrowing and spending.
But if inflation continues to remain really low, or the rate dips, the timescale of the tapering process could be extended, as very low inflation removes one incentive to spend.
Jennifer Lee of BMO Capital Markets said the rise in inflation in March should not cause concern for the Federal Reserve.
"All of the upward push came from food prices," she said.