Nestle: Slowest first-quarter sales growth since 2009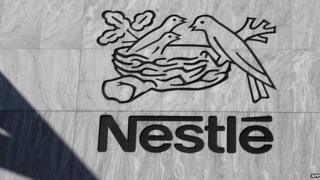 Nestle, the world's largest food company, has reported its worst first-quarter sales growth since 2009.
Unusual weather, a late Easter, poor sales in emerging markets and cost-conscious Europeans contributed to the poor performance, said the company.
Sales growth for the period was 4.2%, 2.6% due to real internal growth and 1.6% to price increases.
Despite the lacklustre start, Nestle said it anticipated a good year ahead, thanks to a roll-out of new products.
Nestle has some 8,000 brands, with a wide range of products across a number of markets.
The small increase was partly due to cold weather conditions in North America, which made people shop less.
Furthermore, frugal shoppers in Europe had been opting for cheaper brands, with sales in the region falling by 0.8%, said the company.
A later Easter in 2014 disrupted the company further, pushing expected chocolate sales into the second quarter.
The strength of the Swiss franc also hurt the company, with currency depreciations in emerging markets unable to make up for weak growth elsewhere.
The company said these "substantial" currency fluctuations were the reason for its net revenue decline of 5.1% to 20.8 billion francs ($23.6 billion).
Looking ahead
Despite the slow start, Nestle predicts faster growth in its second quarter.
"We confirm our full-year outlook: performance will be weighted to the second half, outperforming the market, with organic growth around 5%," said chief executive Paul Buckle.
"Our organic growth in the first months of 2014 was in line with expectations and driven by volume rather than price."
With consumer spending low, the continued roll-out of new products was responsible for maintaining growth in difficult market conditions, particularly in North America, said Nestle.
In Western Europe in particular, France, Germany and the UK struggled.
Nespresso maintained its strong growth momentum, despite increased competition from competing brands.
Nestle shares have gained 2.5% so far this year.