Ofcom investigates phone firm Unicom after complaints
By Lydia Thomas
You and Yours, Radio 4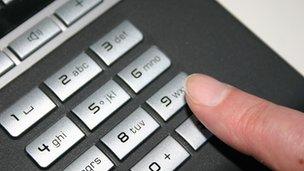 The communications regulator Ofcom has launched an investigation into the sales practices of the telecoms company Unicom.
The group sells mobile, landline and broadband contracts to small businesses, but customers say the real costs were much higher than promised.
Unicom said it was working to resolve the complaints of unhappy customers.
Ofcom has said the investigation is in its early stages, but will examine whether there are grounds for believing the company has failed to comply with rules for fixed-line suppliers.
Jennifer Ferguson owns a small dress shop in Stourbridge and is tied into a three-year contract with Unicom.
She said: "We only signed up our telephone lines and we didn't discuss broadband at all, but they signed us up to broadband anyway, which left us disconnected for three weeks.
"We've asked to terminate the contract, but the only way we can do that is if we pay £1,000. We're a small company and to pay that would ruin us."
Ofcom is also looking at the length of the contracts consumers were tied into and the termination fees they are charged when they try to leave.
Carol Robinson from Dudley retired from running a cafe and was chased for fees of £1,500.
She said: "The new owners took over the cafe the day after I left so there was no interruption and no termination.
"The harassment Unicom gave me was dreadful, they were threatening, they were rude, and they'd ring any time of the day or night."
Since You and Yours highlighted the complaints to Unicom, Jennifer Ferguson has been able to leave her contract and Carol Robinson's termination fees have been waived.
Unicom said: "We're proud of the value we provide to our customers and of our record of customer care.
"If problems do occur, then of course we try to do everything we can to provide a swift and acceptable resolution."
Related Internet Links
The BBC is not responsible for the content of external sites.