Eurozone industrial output grows 0.2% in February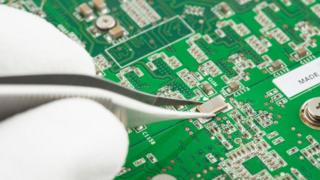 Industrial output in the 18-nation eurozone grew by 0.2% in February, in line with analysts' expectations.
Growth was driven by a 0.6% increase in intermediate goods and a 0.5% increase in non-durable consumer goods.
Electronic components manufacturing saw the strongest growth in eurozone intermediate goods output, with an 11.5% increase, Eurostat said.
Energy output decreased by 1.7% overall, with a fall of 11% in coal and lignite mining.
There was a 1.2% drop in durable consumer goods.
So-called intermediate goods, including man-made fibres, pesticides, chemical products and animal feeds, all contributed to the growth in eurozone industrial output.
Falls in energy industry production, including a monthly drop of 8.4% in petrol and natural gas extraction, did not dent overall industrial growth.
"A modest increase in industrial production in February supports [the] belief that eurozone economic recovery is continuing to gradually firm," said IHS Global Insight's chief UK and European economist, Howard Archer.
"It looks likely that industrial production saw reasonable if unspectacular growth across the eurozone in the first quarter and made a positive contribution to GDP growth," he added.
January's figures of a 0.2% reduction in production were revised to show a flat reading of 0% growth after new figures were taken into account, a Eurostat spokeswoman said.
Eurozone growth saw a revised 1.6% growth compared with the same period in 2013.