Peugeot Citroen outlines recovery plan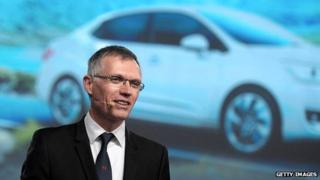 Struggling French carmaker PSA Peugeot Citroen has announced a major recovery plan after recording net losses of 7.2bn euros ($10bn; £5.9bn) over the past two years.
The plan includes cutting costs and slashing the numbers of models in its range from 45 to 26.
However, Peugeot shares dropped sharply on the news, down 4.46% to 13.08 euros.
In February, Peugeot agreed a long-awaited rescue deal with the French government and China's Dongfeng Motors.
Narrower focus
Under the new plan - called "Back in the Race" - Peugeot will focus on its Peugeot and Citroen brands, and also develop its upmarket DS marque.
This will include gradually reducing its existing product range from 45 to 26 models by 2020.
"We are going to focus the creative power of our teams on a more limited number of products that people want to buy," said new chief executive Carlos Tavares.
"If you have less cars you will do a better job, and the cars will be more competitive. By doing this, you will have more attractive products."
Peugeot plans to accelerate its expansion in China, in partnership with Dongfeng, which it is hoped will help sales in other Asian markets.
At the same time, the company said it aimed to revive its fortunes in Russia and Latin America, both regions where it is losing money, within the next three years.
Mr Tavares said the Peugeot group would halt its losses by 2016.
"From that point in time on, we will be positive in our operating profit margin. After we cross that milestone, we will accumulate 2bn euros of positive cash-flow over the next three years," he said.
At the same time he said its core automotive division planned to achieve a 2% operating margin by 2018.
Extra funds
The company's continuing losses had led to the announcement of February's rescue deal.
China's Dongfeng Motors and the French government are each investing about 800m euros in return for 14% stakes in the carmaker.
Another 1.4bn euros is being raised from existing investors in Peugeot.
The Peugeot family's 25.4% stake is being diluted to 14%, matching that of the French government and the Chinese carmaker.