South Korea's state health insurer sues tobacco firms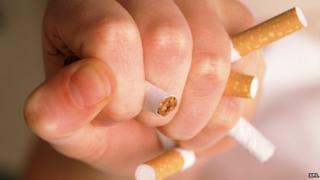 South Korea's state health insurer is suing three tobacco firms, including the local unit of Philip Morris, to offset smoking-related treatment costs.
The local arm of British American Tobacco has also been named in the lawsuit, along with market leader at home, KT&G Corp.
The insurer is seeking an initial sum of $52m (£31m) in damages.
The state insurer has said previously it spends more than $1.6bn each year on treating smoking-related diseases.
South Korea's National Health Insurance Service (NHIS) said in a statement: "Smoking is a serious issue affecting people, particularly the youth and women.
"So we will push ahead with this suit with a strong determination, for the future of our nation and sustainability of our health insurance."
The lawsuit from NHIS comes days after South Korea's Supreme Court said there was a lack of proof that smoking causes lung cancer.
The country's highest court made the statement when it threw out a lawsuit filed against the government and formerly state-run KT&G, in a legal fight that dates back to 1999.
In that lawsuit, 36 cancer patients and family members claimed that KT&G added elements to their cigarettes that increased the risk to smokers' health and raised the chance of addiction.
Industry value
According to industry estimates, the tobacco industry in South Korea is valued at about $9.3bn. About a quarter of South Korean adults smoke.
KT&G Corp has a majority foothold, with a market share of about 60% and annual sales of $2bn.
The local units of Philip Morris and BAT together have a combined market share of 33%.
Japan Tobacco has the smallest market share in South Korea of about 6%. It was not named in the lawsuit.
The country's ministry of health and welfare drew up new anti-smoking regulations in 2012. As part of the new measures, smoking in restaurants will be banned from next year.