Almost 4m families 'on financial knife-edge', says Shelter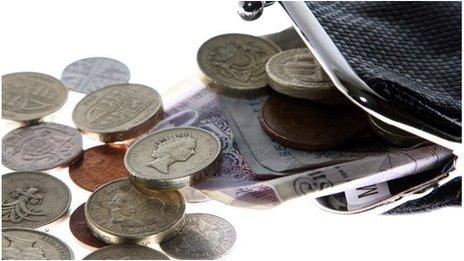 Some 3.8 million families have only enough money to pay their rent or mortgage for a month if they lose their jobs, a housing charity has said.
Shelter, which surveyed 7,500 people, said high housing costs and stagnating wages meant many were living on a financial knife-edge.
It wants the government to provide better short-term support.
The government said it already provides support through housing benefit.
In a statement, the Department for Work and Pensions (DWP) said it spent £94bn a year on benefits to provide a safety net for millions of people who are on low incomes or unemployed.
This includes about £24bn a year on housing benefit which the DWP said had gone up by 50% over the past 10 years.
Shelter's findings were based on a YouGov survey of 7,500 adults who pay rent or a mortgage. It says 44% of working families with children under the age of 18 could be one paycheque away from losing their homes if they became unemployed because they have little or no savings.
Its researchers also found that 29% of families would immediately be unable to afford to pay for their home if they lost their income.
Liz Clare, a helpline adviser at Shelter, said: "Every day we see the proof that just one piece of bad luck, like a sudden job loss or illness, could tip any of us into a spiral that puts the family home at risk.
"Sky-high housing costs and stagnating wages mean that saving is becoming a thing of the past for many people. Most of us simply don't have enough money in the bank that we can rely on for long enough to get back on our feet."
Citizens Advice said it has seen a 16% rise in social housing rent arrears last year and a big jump in repossession warnings.
It said changes to housing benefit and Council Tax support had made life even more difficult for people.
Related Internet Links
The BBC is not responsible for the content of external sites.