Money on wheels: Banking gets seriously mobile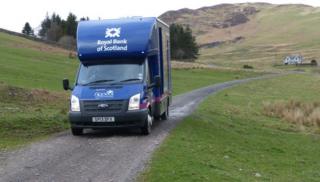 For the UK's urban-dwelling, short-of-time majority, mobile banking is something that usually comes in the shape of a smartphone app.
But ever since crofters on the Isle of Lewis first encountered it in 1946, mobile banking has also had another manifestation, in the form of a bank on wheels.
At that time the crofters found it hard to reach the main town, Stornoway, as they were too busy weaving tweed.
Instead the bank would travel to them.
But nearly 70 years on, as the popularity - and the affordability - of High Street branches dwindles, mobile banks could be coming into their own.
So when Royal Bank of Scotland (RBS) announced the closure of 44 branches earlier this month, it also announced it was buying five new mobile branches.
It is adding three new routes for the vans, two in Scotland and one in Wales.
Its rival, Bank of Scotland (BoS) is also updating its fleet, with two new vehicles.
So do mobile banks provide an additional level of customer service, or are they just the excuse that banks need to close further branches?
'Proper branch'
For two hours every Thursday, an RBS mobile branch pulls into the market square in the town of Moffat in Dumfries and Galloway.
At the wheel is Jim Russell, who has been driving the van for 14 years.
He and his colleague, Audrey Murphy, provide their regulars with a special level of service.
"If customers are ill, and cannot come down, if they're not far off route, we'll drive to their houses," says Jim.
If regulars do not turn up, they may get a text, to check if they are OK. The older ones might even get the snow swept off their doorsteps.
Local customers certainly appreciate the service, although they bemoan the lack of a proper bank.
"I'd prefer it if there was a branch in Moffat," says local butcher Scott Wallace.
"But I like it. It's a lot easier than going to Lockerbie, which is 16 miles away," he says.
Anne Murray would otherwise have to travel 39 miles to her branch in Selkirk.
"Yes, I would prefer a proper branch, but it's not going to happen, is it?" she says.
'Red herring'
Among the 44 branch closures recently announced by RBS, 14 were the last bank in town.
In such cases it promised its customers it would either remain open, or else provide alternative banking facilities.
As a result some of the "last bank in town" communities will now be served by new mobile branches.
A van based in Duns will cover Chirnside and Greenlaw, in the Borders, for example, where customers would otherwise have been abandoned.
But critics believe vans can never replace real branches.
"We were appalled at the RBS decision," says Derek French, of the Campaign for Community Banking.
"The mobile thing is a red herring. It's better than nothing if you are in a remote community, but they use it as a publicity thing," he says.
Mr French is concerned the introduction of more vans will go hand-in-hand with further branch closures.
Community service
But RBS, like other banks, insists that branch closure decisions are all taken on a case-by-case basis, according to how many people use them.
Only then does it consider alternative facilities, such as a mobile branch.
Nevertheless it says that branch transactions have fallen by 30% since 2010.
And it says the new mobile vans - in which it is investing £600,000- will provide a more personalised service to its customers.
"It's about being where the customers want us," says Jane Paterson, who is in charge of rolling out the new fleet of RBS mobile branches.
The existing RBS and NatWest vans already drive more than 7,000 miles a week, and reach 357 different communities.
'Two customers'
The new vans will provide a much more practical service than the existing fleet. Because they are equipped with satellite dishes, they can connect directly with the network, and a customer's account.
In the existing vans - as crewed by Jim Russell and Audrey Murphy- staff have to make a note of each transaction, and then update the accounts when they get back to base.
Or they have to make a phone call to the customer's branch, to check their balance.
But Jim and Audrey have plenty of time for paperwork, as clients can be a little thin on the ground.
Indeed some mobile vans have fewer customers than the branches they supposedly replace.
"In Lamington, our next stop, we have just two customers," says Mr Russell.
"So we park between their doors."