Russia action in Ukraine 'will not be tolerated', Schaeuble says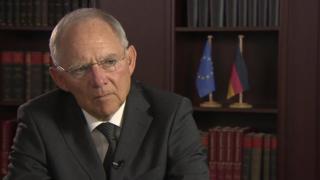 Europe must be firm over sanctions against Russia, German finance minister Wolfgang Schaeuble has said.
Even if future sanctions result in economic weakness in Europe, Russia's annexation of Ukraine "will not be tolerated," the influential politician told the BBC.
However, Europe wanted close partnerships with Russia, he said.
Mr Schaeuble's comments came ahead of a meeting of the IMF and G20 finance ministers on Friday.
The issue of Russia in the Ukraine must be solved, Mr Schaeuble said.
"We in Europe know that we can't solve such a problem with military force, therefore it has to be solved with diplomatic and economic instruments," he said.
"We can't accept that someone is changing international rules and borders. That must not be tolerated, and that will not be tolerated.
"Therefore, [even] if that would cause some economic weakness, we will stick to this position."
Mr Schaeuble said that it was in the interests of Europe and Russia to have close partnerships, but that Russia was taking the most risk in continuing on its course.
Immigration
In a in a wide-ranging BBC interview, Mr Schaeuble also addressed the issue of European immigration.
Immigrants within the European Union should not be able to claim benefits from their host country, he said.
Instead, EU immigrants should get benefits from their home country if needed, he said.
Freedom of movement for people to work within the EU is vital for the prosperity of the European Union, he added.
"We have to defend the freedom of movement for all people who want to work in Europe, because it's a huge achievement," he said.
"But, we must find a solution so that people can only have freedom of movement, but not choose wherever they want to get social assistance.
"You can do it if we make European law in a way that it's clear that you have the freedom to work, but you can't ask for social assistance in the member state you want to choose.
"If you need social assistance, then the responsibility is on your home state," he said.
Anna Platonova, a regional labour migration specialist at the International Organisation for Migration, said that European social security systems would need to be coordinated before this idea could be put into practice.
"Improving coordination of social security rights among states in the EU is much needed and would benefit from more in-depth evidence and collaboration between EU countries," she said.
"Despite their skills and efforts to find work, EU citizens face many obstacles in securing a job before arrival, but also while job-seeking in the country of destination.
"This is where access to social security can make a difference to a migrant's dignity, productivity and even the ability to return to her or his country," she added.
There has been debate throughout the EU on the effects of immigration between member states for a number of years.
On 1 January this year, Bulgarians and Romanians gained the same rights as other EU citizens to work in member state countries, sparking a fresh round of debate.
The German government has been concerned about welfare-abuse, and is in the process of revising its benefits for EU migrants.
Eurozone crisis
Mr Schaeuble said that it is possible for a Bulgarian to earn more from benefits in Germany than from working in Bulgaria. "It makes no sense," he said.
Recently, the UK government has put in place a series of measures designed to restrict access to benefits for migrants from other EU countries, including a minimum earnings threshold of £149 per week to claim benefits.
The eurozone's fragile economic recovery is not yet complete, Mr Schaeuble said.
"The crisis is not over, but we are on the right way, we have [had] impressive success," he said. "The average deficit of all member states has halved in the last couple of years.
"The eurozone as a whole has left the time of recession and has moved to growth. Greece is moving to growth this year.
"The most risk is always complacency. As soon as we have some success we are tempted to be a little bit more flexible, and that is dangerous. We have to stick on the right course."
Deflation
The European Central Bank has been holding interest rates down as part of measures to encourage the eurozone economy, but inflation has gradually fallen, raising the possibility of deflation.
ECB president Mario Draghi has said economic stimulus through quantitative easing will be deployed if necessary.
Mr Schaeuble said that the eurozone is not facing a situation where deflation is likely.
"I think that growth is too low in the eurozone still, but I think the forecast for the coming year is fine.
"Nobody sees a real danger of deflation... It's the expectation that investors and consumers wait on lower prices, and there is no sign for this."