Overdrafts complex and poor value, says FCA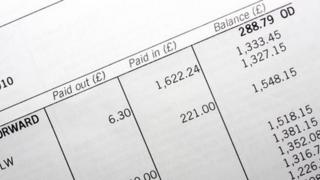 Many overdrafts are "complex and opaque", carry high charges, and are not good value for money, a regulator has concluded.
The Financial Conduct Authority (FCA) said that "even the most astute consumer could struggle to understand what they are paying for" with an unarranged overdraft.
An estimated £8bn is owed to banks and building societies through overdrafts.
A banking trade body said overdraft charges had plummeted.
The FCA will investigate the market over the summer.
Court battle
The regulator studied overdrafts that come as part of a current account, as well as unarranged overdrafts, where banks and building societies allow customers to go beyond their overdraft limit.
It found that many people were confused about the costs and that overdrafts were not providing good value.
"Just about everybody who banks can have access to some sort of overdraft facility - whether they have signed up for it or not," said Christopher Woolard, director of policy at the FCA.
"The sheer size of this market is huge and with overdrafts bolted on to over 30 million UK current accounts, we want to make sure it is working well for consumers."
The regulator said that people failed to switch banks on the basis of overdrafts, so there was little pressure on banks to ensure these products offered good value.
It also said that it was too simplistic for banks to claim that overdrafts subsidise the fact that there is no specific charge to open a bank account.
'Shop around'
The British Bankers' Association, which represents the major banks, said that overdrafts were still a good option for many people.
"Millions of people find overdrafts are an easy way to borrow money, more flexible and convenient than taking out a loan," said Eric Leenders, the BBA's executive director in charge of retail.
"Anyone who uses this type of borrowing receives details of how much they are charged in their accounts statements."
Overdraft charges were the subject of a major court battle four years ago.
Banks defeated the Office of Fair Trading's attempt to regulate bank charges following the long-running legal case, but many have since made changes to their charging structures.
They also had to process millions of complaints about charges, with payments made to many thousands of customers.
"Overdraft charges have plummeted in recent years, with estimated savings of up to £928m for customers since 2008," Mr Leenders said.
"But if you are unhappy with how much you are being charged, we recommend you shop around for an account better suited to your needs."