Customer gives Npower 'final notice'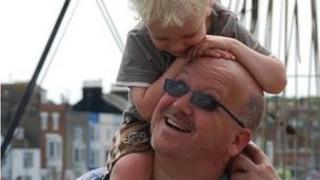 A customer has turned the tables on his energy company when he "fined" them for late payment.
Steve Clark told Radio 4's You & Yours he waited months for Npower to return his money after he switched provider while £137 in credit.
Npower paid the balance and a £50 "fine", after he mimicked their own warning letters.
The firm said problems had been caused by a big change to an IT system and apologised for the inconvenience.
'We can sort something out'
Steve Clark, a journalist and author, chose to leave Npower in November 2013 and wanted the company to return the £137 they owed him.
Despite months of requests to get his money back, the company still sent him a warning letter about non-payment.
He decided to respond with his own warning letter in the same style, which read: "If you're having difficulty paying the money back, which Npower has been holding on to since November, then please get in touch and I'm sure we can sort something out.
"With interest of course."
Mr Clark then went further, sending Npower a bill for £50, saying it was a late payment invoice and full payment was due in seven days.
He eventually mocked up a final reminder notice, telling Npower that if they were unable to pay the bill he was there to help.
Npower responded with an apology, sending him the balance of his account and his requested £50.
Goodwill gesture
Mr Clark, who outlined the process on his website, said: "I'm satisfied. The regulator should be looking into the days and weeks it takes to pay someone's money back and if the likes of Npower persistently refuse to give money back straight away they should be fined heavily.
"They're very quick to bill the rest of us so perhaps if we all hit them with charges they would realise they need to improve service."
Guy Esnouf, director of external communications at Npower said: "We are very sorry. Where we know we've caused inconvenience we'll look to a goodwill gesture because we don't want to cause our customers inconvenience."
He said some of the problems were down to a change in an IT system, and they were "not there yet".
Mr Esnouf added: "We said in December we are having system problems. We are making good progress, but we made it clear we wanted to improve, we are trying to improve and we are."