PPI complaint numbers see signs of drop, FCA figures show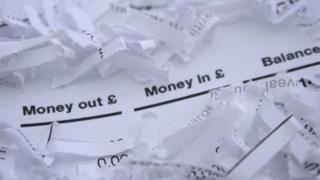 Consumers made more than a million complaints about PPI mis-selling in the second half of 2013, but the flood of gripes is slowing.
There were 1.39 million new complaints about the sale of the loan insurance, a fall of 22% compared with the previous six months.
Complaints about savings and credit cards also fell, according to data from the Financial Conduct Authority (FCA).
But the regulator said complaints about current accounts rose by 8%.
'More to do'
The FCA said there were 2.48 million new complaints made to financial services companies from July to the end of December. This was down 15% on the total for the previous six months.
Payment Protection Insurance (PPI) complaints accounted for 56% of the total, down from 62% in the first half of the year.
The total number of PPI complaints was above two million in the second half of 2012, so has dropped sharply since then.
In the latest data, Barclays recorded the highest number of complaints across all categories for an individual institution rather than banking group. It also recorded the highest number of complaints about general insurance - a category that includes PPI.
Ashok Vaswani, chief executive of Barclays' retail and business banking, said complaint numbers were falling but the bank "still had a way to go".
"We take all complaints seriously and endeavour to make sure that along with finding the immediate resolution, we tackle the root cause of the complaint head on to prevent other customers from being affected," he said.
"Every part of the bank is working to the same goal: to go out of our way to put things right and make our customers' experience seamless."
The bank received a total of 309,494 complaints, ahead of Lloyds Bank with 256,656, and MBNA with 213,311.
"No firm wants to top this particular list and they all should be striving to ensure that customers are being treated fairly and not given cause to complain," said Martin Wheatley, chief executive of the FCA.
"This is an indication that firms seem to be putting customers at the heart of their business, however, there is clearly more for us all to do to show consumers their interests come first."
The companies with the biggest number of customers tend to receive the most complaints.
'Worrying' trend
Eric Leenders, of the British Bankers' Association, which represents the UK's High Street banks, said: "Banks are determined that there will be no repeat of any of the bad practices which caused mis-selling in the past."
However, James Daley, founder of consumer website Fairer Finance, said: "It is extremely worrying that complaints are rising not falling in areas such as current accounts.
"These numbers show that the industry still has a lot of work to do. I'd urge people who get bad service to take their business elsewhere. There are a small but growing number of banks that realise the importance of good service.
"The quickest way to create a fairer banking industry is for customers to show that they they are willing to vote with their feet if they are not treated well."