Ovo Energy pledges an annual energy bill under £1,000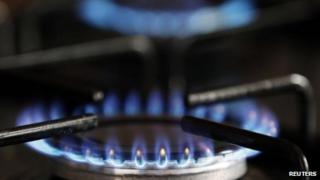 Ovo Energy, a small power company, has pledged to bring annual bills down to under £1,000.
Ovo says that a 9.5% fall in wholesale gas prices over the winter has allowed it to lower prices.
Its pledge comes just weeks after a competition inquiry was announced into the "big six" energy firms to see if they are hampering competition in the energy market.
Ovo's price is based on a dual fuel, medium user paying by direct debit.
In the UK, the average annual dual-fuel bill - covering gas and electricity - is about £1,264 per household.
Last month, SSE - one of the big six energy firms - said it would freeze domestic gas and electricity prices at their current levels until 2016.
The price of energy has become an important political issue, particularly after several of the big energy firms raised tariffs at the end of last year.
Last month, a report by regulator Ofgem called for an investigation into the market by the Competition and Markets Authority (CMA).
The Ofgem report criticised the effectiveness of competition.
It also found "possible tacit co-ordination" on the size and timing of price rises, but did not accuse the major energy firms of colluding over prices.
Managing director at Ovo Energy, Stephen Fitzpatrick, said: "Competition works. It is the best chance we have of bringing down bills, but we need a better market to make that possible."
"That means when wholesale prices fall, customers shouldn't see prices being frozen, they should see them falling," he added.
Customers would have to sign up to a fixed deal for 12 months to secure the sub-£1,000 Ovo bill.