North-South divide in mortgage risk, says academic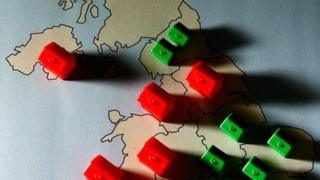 A quarter of all the outstanding mortgage debt in Britain is owed on London properties, but these owners are less vulnerable to interest rate rises.
Home loans totalling £897bn were still owing at the end of September, analysis of residential mortgage debt in England, Wales and Scotland shows.
Some 25% of this was in London, and 44% in London and south-east England, the Council of Mortgage Lenders (CML) said.
But an academic study said homeowners in northern England were more at risk.
This was because these householders were twice as likely to hold variable-rate mortgages - that would be expected to rise if the Bank rate increased - as those in southern England.
People in the South were more likely to have longer, fixed rate mortgage deals that tied them into a certain interest rate, according to Alla Koblyakova, of the School of Architecture, Design and the Built Environment at Nottingham Trent University.
'Geographical imbalance'
The data from the CML shows mortgage lending by postcode area. This suggests that only £26bn of outstanding mortgage borrowing is on properties in the north-east of England - the lowest of any region.
However, house prices are generally lowest in this area of the country meaning that less needs to be borrowed, and highest in London.
The study of 1,000 mortgage holders by Ms Koblyakova, along with other housing data from 2001-09, suggested that those in the north of England had a 78% likelihood of holding a variable-rate mortgage, compared with 35% in the south of England.
"Our research suggests that this is a definitive feature of the UK mortgage market and the recent credit crisis has only added impulse to this trend," she said.
The Bank rate has stood at a record low of 0.5% since March 2009, but is eventually expected to rise again. When this happens, variable-rate mortgages would be expected to follow suit.
"As variable-rate mortgages are more sensitive to financial shocks, it is a matter of national economic concern that there is such a geographical imbalance in the way that mortgages are distributed in the UK," Ms Koblyakova said.
"It is very important that policymakers are fully aware of this when considering future monetary policy decisions, as an increase in interests rates is likely to affect poorer regions much more severely than others."
Some people with lower average incomes were pushed into variable-rate, rather than fixed-rate deals, in order to secure a mortgage of the size they wanted, she added.
Changes to mortgage regulation, coming into force soon, will ensure that mortgage applicants undergo a strict affordability check before they are offered a home loan.