Aldi, Lidl and Waitrose supermarkets increase market share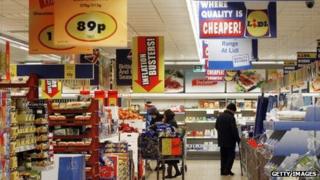 Discount and premium supermarket chains have continued to increase their market share at the expense of the main UK supermarket chains, research firm Kantar Worldpanel has said.
Aldi recorded a record gain of market share over the year, Kantar said, rising by more than a third.
Lidl and Waitrose also saw strong growth, it added.
Of the "big four" chains, Asda was the most resilient, while Morrisons lost the most market share.
Kantar looked at supermarket spending for the 12 weeks to 30 March, compared with the same period a year ago.
Tesco, Asda, Sainsbury's and Morrisons all experienced a decline in sales. Nevertheless, Tesco still dominates the market with a 28.6% share, compared with 4.6% for Aldi.
Edward Garner, director at Kantar Worldpanel, said: "Amid a challenging market backdrop, individual retailer growth might be expected to be restricted.
"This is certainly not the case for Aldi, which achieved its highest ever growth of 35.3%, boosting the retailer to a record market share of 4.6%.
"Lidl also experienced strong growth in a record-breaking month and now accounts for 3.4% of the market."
Tesco, Sainsbury's, Asda and Morrisons have been dominant in the UK for some time.
However, in recent years, supermarkets at both the discount and premium ends of the market have reported strong growth.