New technologies helping start-ups shoot for the stars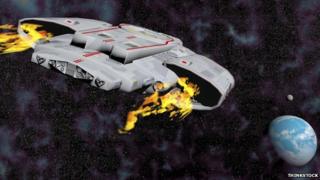 Setting up a business in 2013 was almost "comically easy" compared with when he started out in 1989, says video games entrepreneur Martin Kenwright.
With two multimillion-pound games companies - Digital Image Design and Evolution - under his belt, he is hoping his third enterprise, Starship, will achieve even greater things.
One key difference between then and now is the sophistication of the technologies on offer, he says, which are enabling start-ups in all sectors to punch above their weight and go global far faster than they ever could before.
"When I started doing graphics for video games, I would draw everything using pencil on graph paper, then input the co-ordinates manually into the computer," the Liverpudlian boss, responsible for best-selling 3D games such as Motorstorm and World Rally Championship, told the BBC.
"The biggest technological breakthrough for designers was the invention of the mouse," he says.
Agile business
Scroll forward to the modern era of high-speed internet, cloud-based services and hugely powerful computers, and it's clear the world has changed radically.
Now Mr Kenwight's developers have a range of off-the-shelf tools at their fingertips, from game design engines, such as Unity and Unreal Engine, to 3D digital art packages, such as Photoshop, Maya and ZBrush.
"What used to take me three days on paper I now do in three minutes," says the 46-year-old "scally from Netherley".
But the biggest, and most advantageous, change he has seen over the past 35 years is the easy access to developer talent that can be bought in ad hoc according to the specific needs of the project.
"Keeping overheads down means you can take more risks - you can be more agile," he says.
'Gamification'
Starship's 20-plus staff communicate and collaborate using a range of technologies, such as Skype and FaceTime, and the company aims to be paper-free and cloud-based.
During the Games Developer Conference in San Francisco last month, the team synchronised their iPad presentations in real time to prospective partners and publishers using Keynote collaboration software.
But while off-the-shelf tools and the move towards online streaming have led to a "democratisation" of the sector, they have also contributed to a homogeneity in the games on offer, Mr Kenwright argues.
"All the technology in the world can't replace a good idea," he says, brandishing his ring-binder pad in which all his ideas are written down.
Starship plans to inject "gamification" technology to other "trillion-dollar" sectors, such as retail and health, but with products under development for a summer launch, Mr Kenwright remained steadfastly tight-lipped on the details.
"We're building software for hardware that hasn't even been invented yet," he said cryptically.
Utility computing
For CloudSense, a cloud services company with an annual turnover of £10m and offices in Zagreb, Pune, New York, Leeds and London, the big technology breakthrough was the advent of "platform-as-a-service" (PaaS).
"When the four of us started in 2009. we just had a bunch of ideas, but instead of building everything from scratch, we were able to piggyback on Salesforce.com's existing platform," says co-founder and chief executive Richard Britton.
"This gave us access to servers, software and developer tools that helped us turn our ideas into products quickly, all for a monthly fee of about £80."
This kind of "utility computing model", now also offered by the likes of Windows Azure, Amazon Web Services, Google App Engine and Red Hat Openshift, "allows small businesses to cling to the coat-tails of big business and market to a global audience," says Mr Britton.
"It levels the playing field and allows us to concentrate on research and development rather than worrying about IT infrastructure."
It is also far easier to market products via platforms such as Salesforce's AppExchange and Apple's App Store, he argues, while recruiting talent for specific projects can be done via freelancer networks, such as oDesk and Elancer.
Physical presence
CloudSense, which helps telecoms, media and utility companies manage their customer subscriptions and cross-sell other products, now employs about 130 people worldwide.
Ironically, given the virtual nature of CloudSense's products, physical offices are still important, Mr Britton believes, because "global brands still don't trust cloud companies completely. A physical presence is comforting for them."
This is a point echoed by Gary Turner, managing director of small business accounting software company Xero.
"We didn't have a physical location for the first four years of the company's life," he says. "I worked from my spare room for the first two-and-a-half years after joining in 2009."
But as the IT services company grew fast - it now has 700 staff worldwide - it found that "larger groups need physical collaboration. We found a real boost in creativity when we started setting up offices," he says.
Start-up renaissance
Liam Collins, senior researcher at innovation charity Nesta, says: "Software and platform services have drastically reduced the costs of setting up a business.
"And online marketplaces have made it easier to get goods and services to an international market, which is particularly important for developing economies."
Research from enterprise campaign StartUp Britain shows that 526,446 new businesses were registered in 2013, compared with 484,224 in 2012.
While this increase can partly be explained by the recovering global economy, it is also a testament to the enabling power of technology, Mr Collins says.
Mr Kenwright concludes: "I was never going to return to the industry to do something that people expected. We're aiming to disrupt the market with revolutionary products that fulfil a genuine use and need for consumers.
"The real digital revolution has only just begun."