Why postage should be cheaper in UK if Scots vote 'Yes'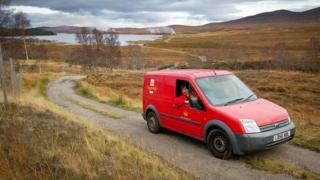 Delivering mail to Scotland's 94 inhabited islands - not to mention hundreds of remote communities in the Highlands - is an expensive business.
The complex logistical operation involves trains, planes, ferries, Land Rovers and vans, not to mention an army of posties, six days a week.
In the case of remote islands like Auskerry in Orkney, which has just a single family, it is delivered by a fisherman on his boat.
Yet until now, no-one has thought twice about such costs.
They were just a necessary part of Royal Mail's universal service obligation: the requirement to deliver "at an affordable, uniform tariff across the UK".
But now that Scottish independence is a possibility, it has become apparent that Royal Mail is, in effect, subsidising its remote Scottish operations with income from customers elsewhere in the UK.
Delivering door-to-door in urban areas, for example, is relatively cheap.
So if Scotland votes "Yes" later this year, and most of those remote places are taken out of the equation, shouldn't the price of a stamp in England, Wales and Northern Ireland actually go down?
Special report: Scotland's future
Royal Mail itself refuses to make any comment on the implications of Scottish independence.
But some analysts believe it could make a significant difference to the economics of delivering mail in the UK.
'Extreme costs'
"To put stuff in a boat for 30 or 40 people is expensive," says postal market analyst David Stubbs.
"The balance of costs starts to change if you don't have that rural profile. You still have Wales and rural parts of England, but you've not got the extreme costs associated with the Highlands and Islands."
Royal Mail also refuses to say what the costs are of delivering to hard-to-reach rural communities.
But you can get a pretty good idea of those extra costs by seeing what it was planning to charge rival operators to deliver mail for them.
I say "was", because some of those charges have now been suspended, following an investigation by the regulator, Ofcom.
Nevertheless, under its Access 1400 plan, Royal Mail was planning to charge other companies 19.6p for a letter of up to 100g, if delivered to an address in an urban area.
If that letter was going to a rural location, it wanted to charge 25.6p, a premium of 30%.
Parcelforce, also part of Royal Mail, already charges its customers extra if they want to send a parcel to or from the Highlands and Islands.
'Fanciful'
On the other hand, of the 70 million items posted each day in the UK, only a tiny number go to the rural areas in question.
So in the overall scheme of things, the extra costs may make little difference.
Lindsay Mackie, a former consultant for the New Economics Foundation, says whatever the theoretical reasons for a cut in the price of stamps in the remaining parts of the UK, in practice any such reduction would be "terribly fanciful".
With most of Royal Mail now in private hands, she believes its public service ethos has been severely compromised.
"There is nothing in the current management that indicates they are interested in cutting prices," she says.
However, in its most recent price rise - on 31 March - Royal Mail maintains that it did not raise the cost of a stamp by as much as the regulator allowed.
The cost of a first-class stamp went up by 2p to 62p, while a second-class stamp went up by 3p to 53p.
While Scottish independence would reduce costs for Royal Mail in the rest of the UK, it would, without doubt, increase costs in Scotland.
In the event of a "Yes" vote on 18 September, the Scottish government has already pledged to renationalise Royal Mail's assets north of the border.
It has also promised to maintain the level of postal services currently enjoyed by the whole of the UK.
But Conservative MSP Murdo Fraser believes prices could rise as a result.
"Under the current set-up, Scottish businesses and residents enjoy being part of a larger body of consumers across the UK, which keeps prices down for everyone," he says.
Public subsidy
He claims a separate Scottish postal service could result in "higher delivery costs and potentially poorer service".
But an independent Scottish government would also be free to increase public subsidy for postal services, and so keep prices down.
Scottish Finance Secretary John Swinney has already said he intends that the cost of posting a letter from an independent Scotland to England would be no more expensive than posting one inside Scotland.
And he has promised that, to start with at least, the cost of a stamp will not go up.
"On independence, stamp prices will be the same as they are at the time in the rest of the UK," he says.
"A Scottish postal service in public ownership would not need to generate profits for shareholders, and so should be in a better position to ensure that postal prices and deliveries meet Scotland's needs."