Vivendi's SFR sale to Numericable hits Bouygues shares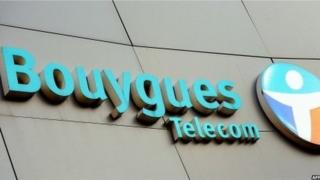 French conglomerate Bouygues' shares have fallen 6% in Paris after it lost out in an attempt to buy mobile phone operator SFR.
After a month-long struggle, SFR's owner Vivendi picked cable operator Numericable to be the winning bidder. Shares in Numericable jumped 15%.
The Numericable bid had more chance of regulatory approval, Vivendi said.
Numericable offered 13.5bn euros ($18.5bn; £11.2bn) in cash and a 20% stake in the combined firm.
Bouygues, whose interests range from construction to telecoms, lost despite being the French government's preferred bidder.
Vivendi chairman Jean-Rene Fourtou told newspaper Les Echos that the overlap with SFR would have been too great for a Bouygues deal to be approved.
'Low risk'
"Low risk and excellent exit conditions played an important role in Altice's victory," Exane BNP Paribas analysts wrote. "We see very little regulatory risk."
The deal may shake up France's telecoms market after two years of price competition.
Numericable's largest shareholder is Altice, itself controlled by billionaire Patrick Drahi. Altice will own 60% of the merged Numericable-SFR business, 20% will be listed and 20% owned by Vivendi.
Private equity firms Cinven and Carlyle will swap their combined holdings of 35% in Numericable for cash and shares in Altice, Numericable said.
Numericable will go to shareholders to raise some of the money for the purchase, with a rights issue worth up to 4.7bn euros.
The sale will complement Vivendi's plan to be more media-focused. Vivendi owns record label Universal and pay TV business Canal+.