East Coast Line: RMT in legal battle over franchise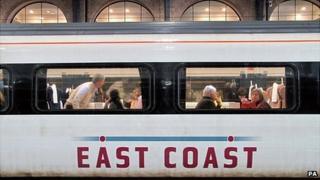 Rail unions have launched a legal battle over the way the government is proceeding with three rail franchises.
They want a judicial review into the reprivatisation of the East Coast line, and the extensions to the Thameslink and Great Northern awards.
The RMT, Aslef, and TSSA say members' jobs and conditions, and the interests of the wider public, are at risk because of the lack of consultation.
The Department for Transport said it would "vigorously defend" the claim.
'Ideologically driven'
The three unions are seeking a judicial review, as they believe the Coalition government is rushing through the privatisation of the East Coast line before the 2015 General Election.
The franchise is due to start in February 2015 and is expected to run for a maximum of 11 years.
FirstGroup has been shortlisted to run the franchise, along with a joint bid from Eurostar and French firm Keolis, and another from Virgin and Stagecoach.
But union officials say that ministers have "cut corners" and have not carried out a proper consultation with themselves or passenger groups.
"The British public have a right to openness and transparency when it comes to the ideologically driven attempt to sell off Britain's most successful rail-route to the speculators and chancers after two previous private sector failures on the same line," said RMT acting general secretary Mick Cash.
A Department for Transport spokeswoman said: "We will vigorously defend this claim and remain committed to the franchising programme. As these legal proceedings are ongoing it would not be appropriate to comment further at this stage."
The line has been publicly run since 2009 - by Directly Operated Railways, an arms-length company overseen by the Department for Transport - after National Express handed back the franchise amid financial problems.
It meant that two successive operators had failed to make the line - which runs between London and Edinburgh, with connected services to Inverness and Aberdeen - commercially viable, and its improved performance in recent years has come under public ownership.
'Invest and innovate'
In October, as part of the franchising process, the government released data which suggested total passenger journeys on the line had increased by a million to 19.1 million under public ownership while revenue had risen by 11% to £692m.
The government has previously said the line has now been "stabilised" and they want to "rekindle the spirit of competition".
And in January rail minister Stephen Hammond said: "Giving passengers more will be at the heart of the new East Coast franchise.
"For our railways to continue to grow we need strong private sector partners who can invest and innovate in ways that deliver a world class service."