Tesco chief Philip Clarke is an optimist – he needs to be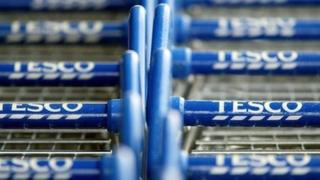 The news on Friday that Tesco's chief financial officer, Laurie McIlwee, has resigned is likely to have come as something of a relief to at least some of the supermarket chain's key investors.
For Philip Clarke, the chief executive, it marks the end of weeks of speculation about his right-hand man's position.
After last October's profit warning took the market by surprise. There has been rumbling disquiet that, whatever its problems, Tesco needs to get one thing right - communicating with its investors.
The last thing they like is being blind-sided by bad news. If that happens, it is often the chief financial officer who is in the frame.
Although senior figures at the business are denying Mr McIlwee fell out with Mr Clarke over strategy - pointing out that it would be difficult for them to fall out over a plan they wrote together - there have clearly been tensions.
Bad news over Tesco's failed American business, Fresh & Easy; the profits warning and an £800m property write down in the UK have all taken a toll. The share price is currently languishing below £3. In April 2010 it was at £4.50.
Mr Clarke is an optimist. Many say he needs to be. In two weeks' time he will announce Tesco's full year results and it is expected that profits will be down once again. Analysts predict a drop from £3.2bn last year to £3bn.
Stabilising
Mr Clarke will say there is light at the end of the tunnel (maybe only pausing to argue that, no, it is not another oncoming train).
Tesco Bank is about to launch its current accounts, the Club Card is going digital, the store refresh is underway, and Tesco's Europe business is stabilising. And this is all against a background of an improving UK economy.
Will it be enough? There are still questions over whether Tesco truly understands how to take the battle to the discounters. It has cut prices on everyday staples such as milk and bread - what used to be called key value indicators.
The full year's results will also be an opportunity to update the market on Tesco's pretty rich profit margin of above 5%. Expect that to be squeezed.
Tesco's other card against the discounters is "differentiation". That's more staff to help customers, online delivery and higher quality products.
Feeling the pinch
Mr Clarke can also point out that the retail sector is tough for all the larger retailers - hit by a fall in consumer confidence and the arrival of the Aldi and Lidl juggernauts from Germany.
Dalton Philips, at WM Morrison, for example, has issued two profit warnings and had a pretty disastrous Christmas. Even Sainsbury's, after 36 quarters of growth, is feeling the pinch.
What Mr Clarke needs is that word often used in political circles - momentum. He says the good stuff is coming down the track, just give Tesco some time.
Mr Clarke supports Liverpool. They are top of the Premier League, and some predict they may win the football league title for the first time in 24 years.
Mr Clarke won't have quite that long to turn Tesco around.