Chinese firm set to buy House of Fraser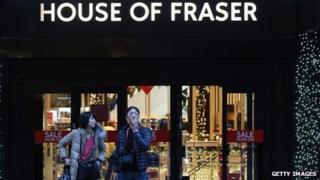 UK department store chain House of Fraser is poised to be sold to Chinese conglomerate Sanpower, the BBC understands.
Sanpower is expected to take an 89% share in the company which would value the business at about £450m.
The deal is expected to be China's largest foreign retail investment to date.
Sanpower Group was founded in Nanjing in 1993 by 49-year-old entrepreneur Yafei Yuan.
China stores?
It controls more than 100 firms in a range of sectors, from retail to property, including the Nanjing Xinjiekou department store chain.
Sanpower currently employs 30,000 people and has assets believed to be worth nearly £5bn.
It is thought Sanpower plans to invest £70m to £80m into House of Fraser in order to finance a wide-ranging store revamp and website improvements.
It could also take the department store into China by opening new stores or changing some existing sites to the House of Fraser name.
House of Fraser generates sales of around £1.2bn a year and employs 7,300 people. It also employs 12,000 concession staff at 61 stores.
It has conducted a lengthy search for new investors in the past year.
Rich history
The surprise Sanpower interest, which first emerged at the end of March, came as bankers were putting together plans to float House of Fraser later this year.
House of Fraser has been running a dual-track sale process.
The company, which was founded in 1849, has been looking for potential buyers while also considering a possible listing on the stock exchange.
House of Fraser originally listed on the stock market in 1948, and remained a public company until it was bought by Mohamed al-Fayed in 1985.
It was listed again in 1994 before being bought in a £350m deal in 2006 by an investment group led by Icelandic businessman Jon Asgeir Johannesson's Baugur Group.
Healthy Christmas
Talks about a sale to French counterpart Galeries Lafayette ended in January.
Sports Direct founder Mike Ashley also expressed interest in the department store in 2012, when he looked at buying a minority stake in the business.
House of Fraser has a complicated ownership structure with 49% of the holding company, Highland Group Holdings, owned by the representatives of failed Icelandic banks Landesbanki and Glitnir.
Chairman Don McCarthy owns 20%, retail entrepreneurs Tom Hunter and Kevin Stanford own 11% and 9% respectively, Lloyds Banking Group has 5%, and other management own 6%.
In January, House of Fraser was one of the few department stores to report healthy Christmas sales, while rivals including Marks & Spencer and Debenhams struggled.