New money in new media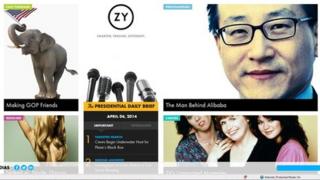 The financial future of the news business is uncertain, but lately US venture capitalists have been placing their bets on journalism.
Over the past year, venture capitalists contributed at least $300m (£180m) to digital news organisations, many of them start-ups, according to a recent report from the Pew Research Center.
"It's a great time to build new brands in the media landscape," says Eric Hippeau, managing director at Lerer Ventures, a venture capital fund that has invested in scores of digital start-ups, including Policymic, a news site geared towards millennials - people born between 1980 and 2000.
Mr Hippeau believes the youngest generation of news consumers are an appealing target audience.
"Young people do not really care about the old brands for the most part. They are attracted by brands that cater to and are building content that are specifically for what they like," he says.
Social media news revolution
Jake Horowitz, Policymic co-founder and editor-in-chief, says his team understands how millennials like him prefer to consume news.
"Facebook, Twitter, Instagram and Pinterest have totally revolutionised the way that young people access and consume news," he says.
"It's a huge opportunity for players in the space to try and experiment with really, really creative ways to distribute that news to young people."
Another fast-growing online publisher, Vox Media, has just launched Vox.com, the brainchild of journalism wunderkind and former Washington Post columnist Ezra Klein. The company has raised more than $70m in funding, including $34m in the autumn.
Lockhart Steele, vice-president for editorial at Vox Media, suggests that investors' interest in young digital newsrooms is not surprising.
"The way we see it is that every generation builds brands in its mediums," he says. "If you look at venture capitalists in general, they're placing bets on the future - and one of those bets is Vox."
'Renewed energy'
Though the $300m in venture capital pales in comparison with the roughly $63bn to $65bn in revenue that news in the US generates annually, the influx of venture funding has received a disproportionate amount of attention.
"The psychological impact of this kind of investment is bigger than the sum of the dollars and cents itself," says Jesse Holcomb, a senior researcher at Pew.
"It has helped flood journalism with a kind of renewed energy."
Both new and existing digital newsrooms are feeling those effects. For example, Buzzfeed's editorial staff has grown from about half a dozen people two years ago to 170 in 2014, the Pew report notes.
Buzzfeed announced in January last year that it had raised $19.3m from investors in its fourth round of funding, bringing the total amount the company has raised to $46m.
Apple, Tesla... Ozy?
Daily online news and culture magazine Ozy launched in September.
Carlos Watson, the company's founder, has amassed an impressive list of investors that includes Laurene Powell Jobs, the widow of Apple co-founder Steve Jobs.
"I think [our investors] saw an opportunity in the media space that was similar to what Apple discovered in the computer space 15, 20 years ago, what Tesla is seeing in the car space, what even HBO saw in the TV space," Mr Watson says.
He describes Ozy as both a media and a technology company, and says it aims to have several revenue sources, including events and subscriptions.
In contrast, the Pew report found that revenue from advertising still accounts for more than two-thirds of known news revenue.
Profitable?
The report also found that 82% of Americans said they got news on a desktop or laptop computer last year and more than half said they did so on a mobile device.
As Americans continue to migrate to these platforms for their news, investors and journalists are vying for their attention.
"What does it look like when we build audiences of hundreds of millions of people? That's the big idea and I think that might be what has investors at least interested," says Mr Steele.
Though venture capital has allowed digital newsrooms to expand and experiment with journalism online, making enough revenue from digital newsrooms to sustain them is still a work in progress.
Or, as the Pew report puts it: "Many native digital outlets are still unprofitable and there is a finite supply of billionaires willing to spend $250m on a start-up."