Tesco confirms finance director exit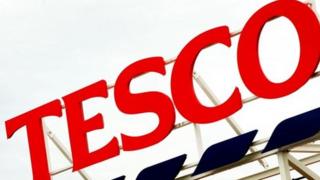 Tesco has confirmed its finance director, Laurie McIlwee, has decided to resign ahead of what is likely to be a second fall in profits in as many years.
It comes as Tesco finds itself locked in a price war with rivals.
Tesco posts its full-year results on 16 April. Analysts expect pre-tax profits to fall to £3bn from £3.2bn a year earlier.
In October Tesco reported a 23.5% fall in half year pre-tax profits.
It blamed the fall on a challenging retail environment, particularly in Europe.
UK like-for-like sales - which exclude new store openings - fell by 0.5%.
At the same time Sainsbury's reported a 2% rise in like-for-like sales during the second quarter of its financial year.
Mr McIlwee's resignation comes after investors are thought to have aired frustrations relating to October's half year figures.
BBC business editor Kamal Ahmed said that after last October's profit warning, which took the market by surprise, there has been rumbling disquiet.
Tesco shares closed down 1.47% to 287.40p on Friday.
'Unprecedented change'
Last April's full year results showed a £1.2bn write-down on Tesco's Fresh & Easy US chain of stores, which had never turned a profit.
Tesco also wrote down £804m on its UK property portfolio.
The supermarket said it was commencing the process of looking for a new financial director immediately and would be considering both internal and external applicants.
Tesco chairman, Sir Richard Broadbent, thanked Mr McIlwee for his contribution to Tesco during his 14 years with the supermarket giant.
"Together with Philip and the wider team, Laurie has played an important role in our process to transform Tesco and position it to be a winner in the new era of retailing. I and the Board wish him every success for the future," he added.
Mr McIlwee said: "I am proud of what we have achieved at Tesco over the last few years. However, after 14 years at Tesco I feel that now is the right time for me to pursue new opportunities.
"I wish Philip and the team well and I am absolutely confident that Tesco will emerge from the current period of unprecedented change in the industry stronger than ever."